Inside the bucking bull business: a Q&A with Chad Berger
By : Darci Miller
August 02, 2019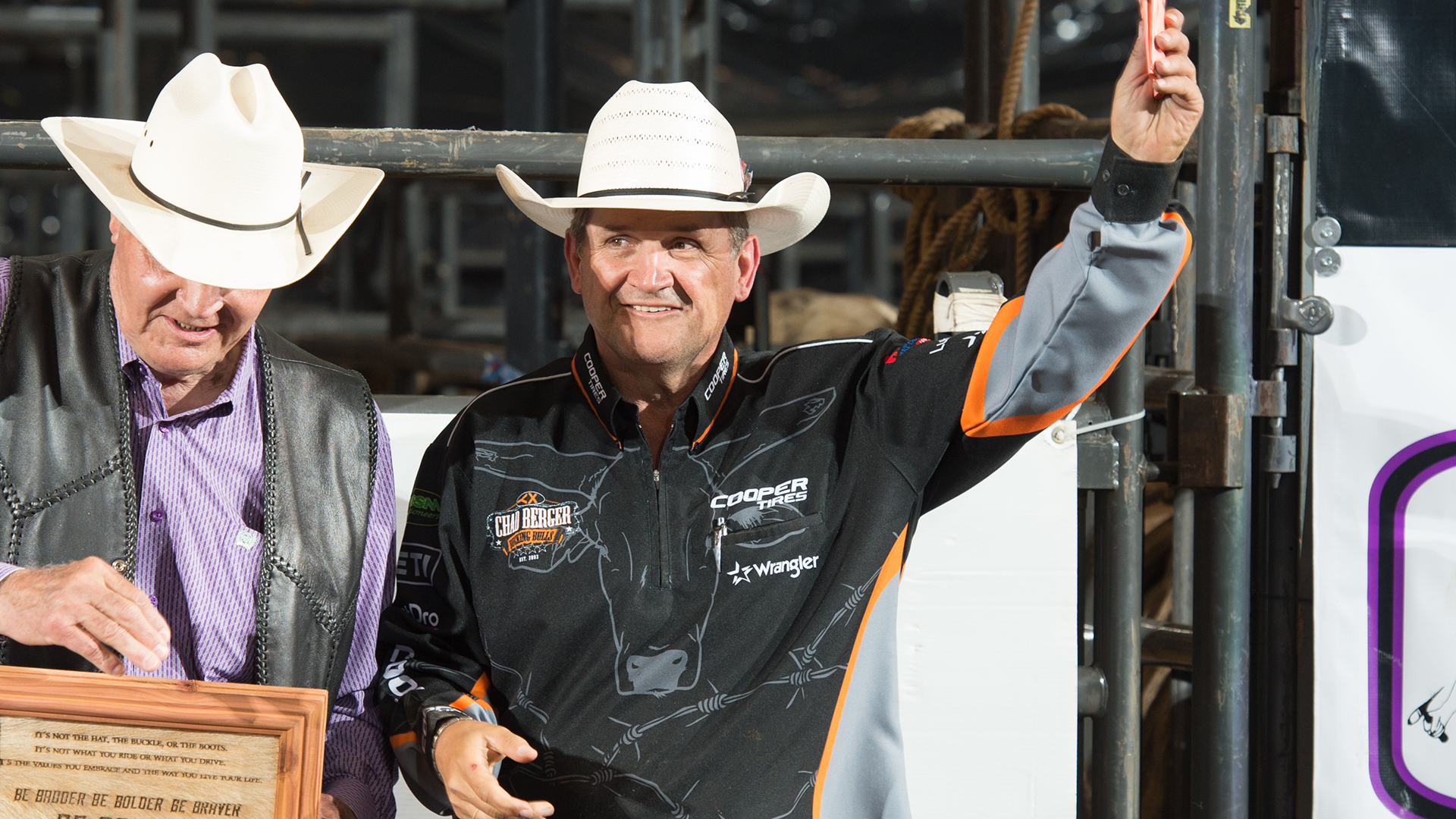 PUEBLO, Colo. – If there's one name that's become synonymous with the bucking bull industry, it's Chad Berger. The eight-time reigning Stock Contractor of the Year, Berger has one of the rankest pens of bulls in the world and currently boasts three of the Top 5 in the YETI World Champion Bucking Bull race.
At Last Cowboy Standing at Cheyenne Frontier Days, Berger sat down with PBR.com to give some insight on the bucking bull industry.
PBR.com: Can you talk through the life of a PBR bull, from when they're born and raised into retirement?
Chad Berger: I always say, if I died tomorrow and there's such a thing as reincarnation, I'd want to come back as a PBR bucking bull. They get treated with the best care in the world from the time they hit the ground, because they mean a lot to us. And in order for them to perform and be good for us, they have to be taken care of really good. So those bulls get taken care of tremendously well, get rested on the road when they're hauled. Then when they get into retirement, they just get to hang out with a bunch of girls, and eat and sleep as much as they like. So they have probably a better retirement than most people have.
PBR.com: Do you have one bull in particular that's your personal favorite?
CB: I've got several personal favorites, but it goes back to Copperhead Slinger, a bull I had that was a great bull out of Mudslinger. He just had the coolest personality and everything. And Pearl Harbor was just so phenomenal, and so big, and so athletic for as big as he was. Those would be my two favorites, probably, of all-time that I've owned.
PBR.com: What do you look for in a bull that you're purchasing or that you've bred that will make it successful?
CB: I want a bull with a lot of consistency and a lot of athletic ability, and one that keeps his eyes on you all the time and is always paying attention. One that stands at attention. Those seem to be the ones that turn out the best.
PBR.com: Smooth Operator is one of your biggest stars. Can you describe his personality?
CB: Smooth Operator's personality never really changes much. He's never really trusted anybody. He's always got his eyes on you. He does that in the ring and at home, and he's not like a lot of bulls. A lot of bulls will gentle down when they get a little older, come up and want to get scratched or petted on. He has no interest in that at all. He's got one thing that he loves to do, and that's buck. He's 9 years old so his future's going to be pretty short in the bull riding world. This is his last shot and he's been performing really well, so I think he's got a real good shot at overtaking Bruiser. I know he's going to give it everything he's got, and whoever wins, wins. I guess I just hope for the best.
PBR.com: What role do the females play in the breeding process?
CB: The females, I think, are more important than the males on the bucking end of it. I always say you can take a herd bull and breed it to a rodeo red cow and you might get a bucker, but if you took a great rodeo bull and just bred it to a herd cow, you ain't going to get nothing. So I think the female plays a big part in how your bulls turn out. It's pretty cool. We have daughters out of all our great bulls from the past and we're just really excited to cross them over on our great bulls that we have now.
PBR.com: You've won the Stock Contractor of the Year award eight times in a row. What does it take to be so successful in this business?
CB: It's doing the best you can every day. You get up in the morning, you work as hard as you can and you do the best you can, and take good care of your animals. Just do everything you can. Like I said, the harder you work, the better you're going to be. And we work at it real hard and I think that's what makes us successful. And basically having a lot of good people around you. I have a great team of guys that haul the bulls, and my family's all involved, taking care of all different things. So with a good team, I always say I'm the quarterback. I just call the plays and they convert. Without a great team, you don't have nothing anyway.
We've talked about a lot of bulls but I think my best shot at World Champion Bucking Bull right now is Smooth Wreck. He's bucking phenomenally well and he's right in the hunt. I think he has a real good shot at winning. It's going to take a lot to knock off Bruiser. He's a great bull, but I think with Smooth Wreck and Smooth Operator, we have a real good shot.
RELATED: Berger cherishes record-setting eighth Stock Contractor of the Year award during emotional night
PBR.com: What is one thing about the bucking bull industry that most people don't know unless they're in it?
CB: Well, I guess the one thing that a lot of people wouldn't know is how much time you spend with them animals and how well they're taken care of. I don't think people know just how good the bulls have it. They get the best feed, the highest quality feed, and get the best care.
PBR.com: The riders were great in Bismarck, getting eight 90-point rides, but your bulls are really what made them 90-point scores.
CB: Saturday night in Bismarck was just a magical night. The bulls were at the top of their game, and the riders were at the top of their game. And it's been talked about as one of the best nights in bull riding in the history of the sport, besides the '99 Finals and 2001 in St. Louis, but what I take out of it and what gives me the most amount of pride is, when they put that in a circle with them two events, you've got to remember that Bismarck, they were all my bulls. In the World Finals in '99 and St. Louis, that was everybody's best bulls to come up with a night like Bismarck. So that's pretty special and puts a lot of pride in our family and what we've been working at so hard to do. It was just great.
RELATED: Heroics in Bismarck: Outlaw leads Team Cooper Tires to victory during memorable night of eight 90-point rides
PBR.com: Do you think Bismarck was a preview to what we could see at the World Finals? Could we have a better night at the 2019 World Finals than we did in '99?
CB: Oh absolutely, that could very well happen. It's got to line up. And like I said, it was magical. There's got to be some magic in the air. There's got to be that vibe. There was just this vibe. And it can surely happen, because I think we have the greatest set of bull riders right now that we've ever had, especially the young and up-and-coming guys like Chase Outlaw and Cooper Davis and Jess Lockwood, and all them great guys, Jose Vitor Leme. All of them coming into the sport the last few years really boosted the PBR and the sport of bull riding. It's got to be the rank pen night and everything's got to line up and they've got to draw right. It can surely happen again, but boy, it ain't going to happen very many times in our lifetime, what happened that night.