Whitehorse on Global Cup: "It doesn't get much better than that"
By : Darci Miller
August 04, 2019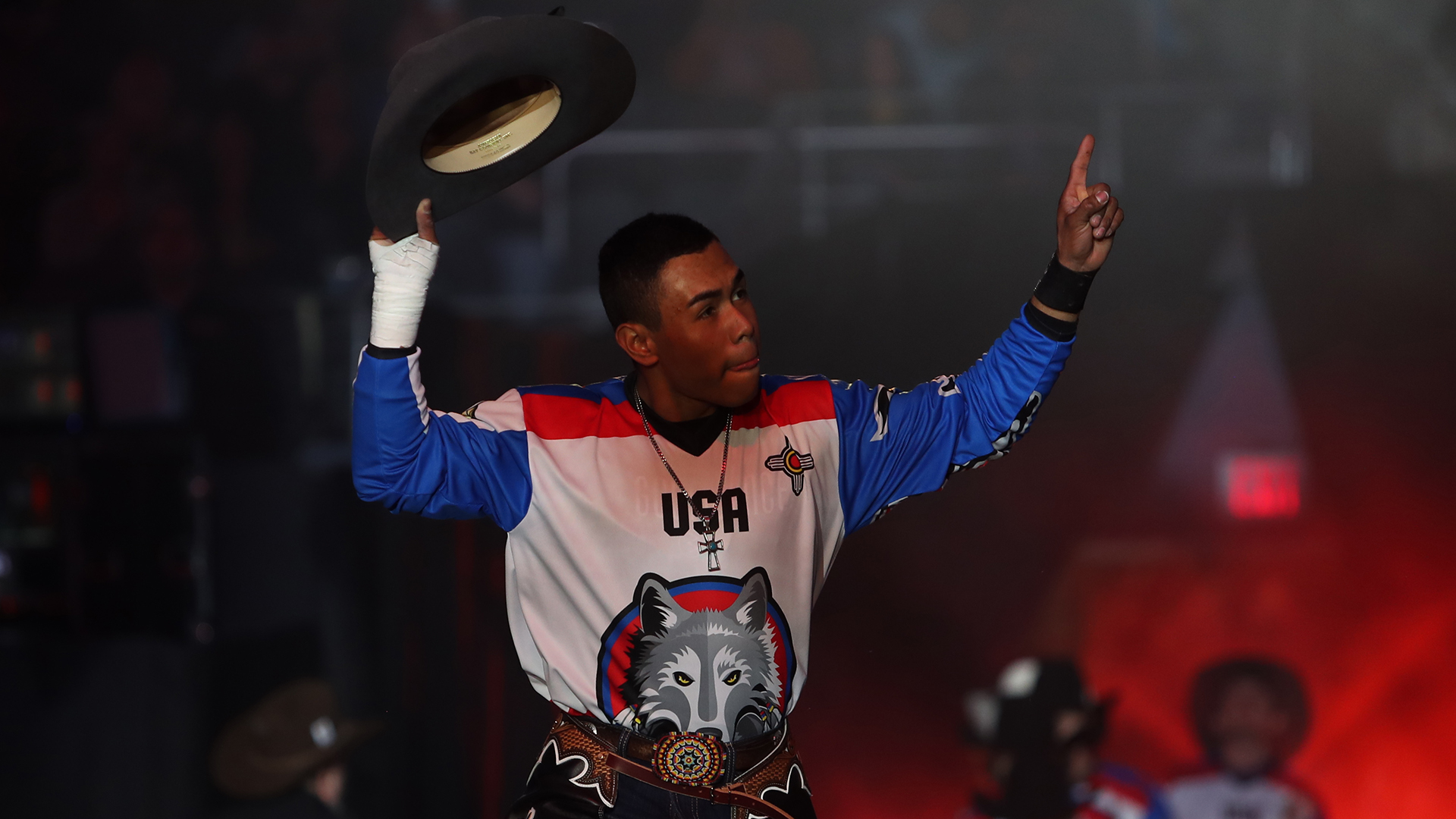 PUEBLO, Colo. – When Keyshawn Whitehorse goes out with his cousins these days, they have one request: don't wear your cowboy hat.
The PBR's reigning Rookie of the Year, Whitehorse is now something of a celebrity in his hometown of McCracken Springs, Utah, and gets recognized more often when he goes into town.
When his cousins tag along, they jokingly ask him to dress differently so as to avoid the spotlight.
"It definitely is a little crazy, but it's something to take in," Whitehorse said. "Nothing to really hold onto, but something to take in and feel proud about in a certain essence, but still remain humble about it."
Whitehorse's star has been on the rise since his rookie year in 2018, in which he finished No. 19 in the world standings.
While attention from both media and fans has increased exponentially, Whitehorse has kept his head solidly on his shoulders and is still focused on doing his job.
"At the end of the day, my job and the only reason why I was able to do that stuff is because I ride bulls good," he said. "The main thing is just having to be decent at it I guess. So being able to (speak to the media) is just a helpful tool to give a little insight into my life and maybe a bull rider's life. But other than that, my main job is to be the best bull rider."
Whitehorse's next on-screen appearance is this Sunday, August 4, as CBS debuts B&W Trailer Hitches Road to Finals. The one-hour special, airing from 1:30-2:30 p.m. ET, is a retrospective of the year's first 16 premier series events and gives fans a look at the most jaw-dropping wrecks, incredible rides and moments of sheer triumph as the second half of the Unleash The Beast gears up.
Also taking center stage is world No. 1 Chase Outlaw, who returned to Cheyenne Frontier Days to win Last Cowboy Standing exactly one year after a gruesome wreck in that same arena left him with 12 hours of facial reconstructive surgery.
Before he returned to compete, Outlaw visited the hospital and met with the doctors and nurses who'd taken care of him at his lowest moment.
"Maybe I needed that injury to push me over that ledge to see how really strong you really are and to see what your full potential is," Outlaw said.
Dr. William Wyatt, who operated on Outlaw a year ago, was there to give him a hug under much happier circumstances this time around.
"People with goals are successful because they always know where they're going," Wyatt said. "And that's him."
Whitehorse, meanwhile, was on hand to discuss the 2019 WinStar World Casino & Resort Global Cup USA, presented by Monster Energy. He was a member of the Team USA Wolves, going 0-for-3 as the Wolves rode to a third-place finish in their debut event.
Whitehorse had previously been an alternate for the Team USA Eagles at the 2018 Global Cup in Sydney. While he took great pleasure in both, representing his Navajo heritage gave him a little extra boost.
"To me, it adds a lot of pride and adds a lot of joy to it, because it gives my people a vision, and it gives my people an added sense of confidence," he said. "They see us achieve great things and they want to go out and do the same thing. They have joy through our rides."
The Wolves will get another shot at the trophy in 2020 when the Global Cup returns to the home of the Dallas Cowboys in Arlington, Texas.
Whitehorse, who has a penchant for being extremely analytical, has managed to keep his view of the Global Cup simple. While the stage might be bigger, he's still climbing into the same bucking chutes, the bulls are still going to buck and he's still trying to make the same 8 seconds.
"All you want to do is just do your very best, so there's not really added pressure," he said. "If anything, a little bit more added try, I guess. You put a little bit more out there on the line for a little bit longer than maybe usually. Giving that added effort, definitely."
But it's not just his country and his tribe he's riding for: it's his team.
"You get a lot of support from your team members, and you get a lot of energy from them, them having your back and you having theirs," Whitehorse said. "That usually isn't the case in an individual event, but having that there definitely puts a lot of confidence and relieves a lot of extra worries if you don't have anybody there to pull your rope.
"This time you do know that somebody's going to be there."
In June, it was announced that Ted Nuce and Mike "Bo" Vocu will be Team Wolves' head and assistant coaches, respectively, in 2020. It was also announced that all Global Cup coaches will have full selection power over their rosters, with no picks coming directly from world standings placements.
Whitehorse, currently ranked No. 28, has plenty of time to secure his position.
In the meantime, he'll head to the Express Ranches Classic, presented by Osage Casino and Hotel, in Tulsa, Oklahoma, to begin the second half with countless fond Global Cup memories never far from his mind.
"There's too many to count. The whole thing was a great memory within itself," Whitehorse said. "Being there, being able to take it all in, enjoying the moment, it doesn't get much better than that."