Eldred dreamed of representing Team USA, ready for Global Cup glory
By : Darci Miller
August 05, 2019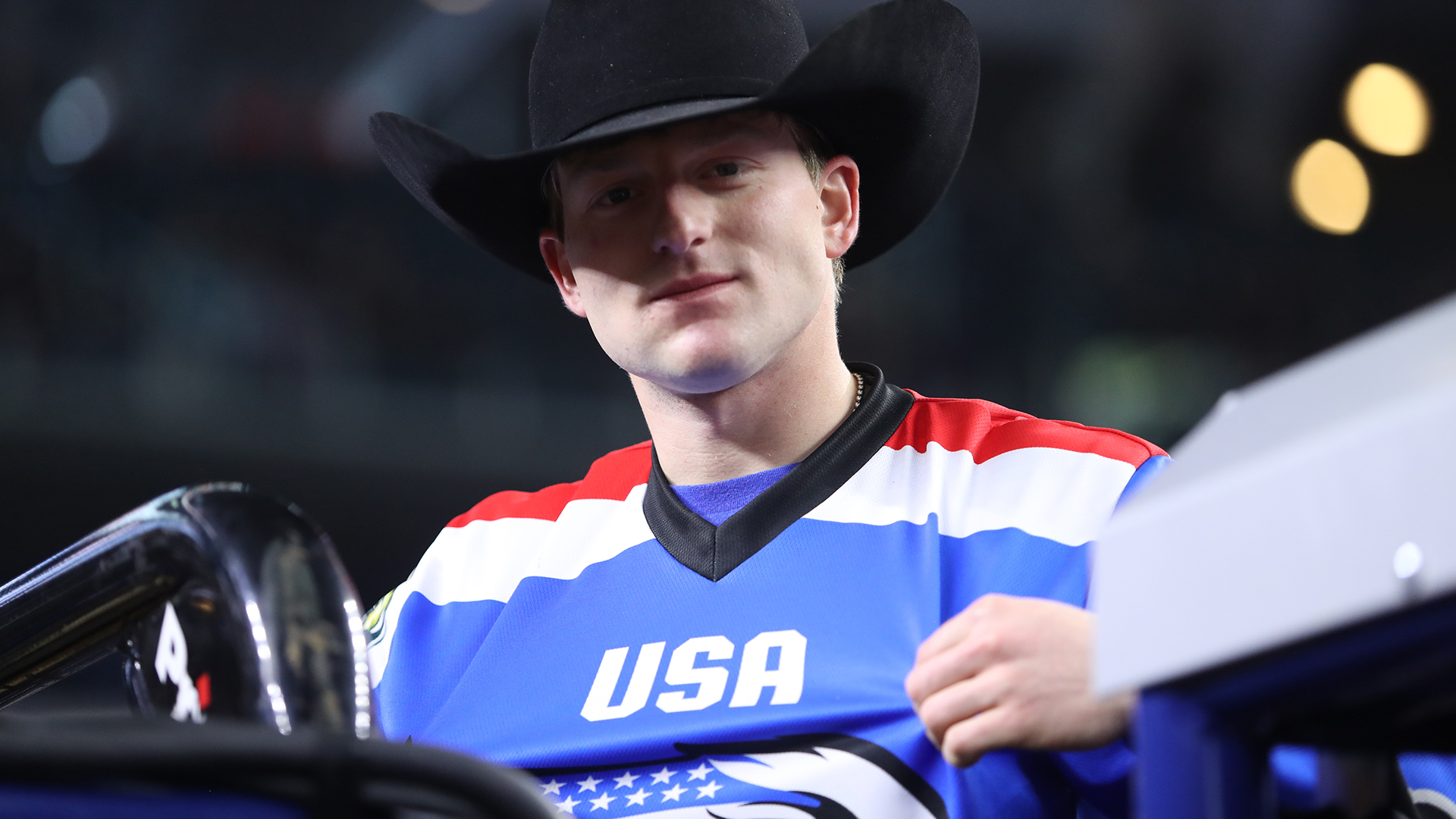 PUEBLO, Colo. – Cody Nance on Blue Crush.
Cooper Davis on Catfish John.
Stormy Wing on Red Bandana.
When it comes to Team USA Eagles highlights at the PBR Global Cup, Brennon Eldred can rattle them off without a second thought.
When it comes to his own rides, however, Eldred is much more pragmatic.
"None of them really stick out, because you've got to make the whistle for the team," he said. "I did my part and showed up. I'm just glad I could contribute to my team as much as I could."
And contribute he has. Eldred went 2-for-2 at the 2019 WinStar World Casino and Resort Global cup USA, presented by Monster Energy, making the 8 seconds for 86 points on Big City and 81 points on Tri-County Ford's Coyote.
Eldred went an identical 2-for-2 in Sydney in 2018, riding Cookies n Cream for 81 points and Super Natural for 84.25. And in Edmonton he went 1-for-3, with a qualified ride aboard Finning Lil Shorty for 83.75 points.
All in all, Eldred has gone 5-for-7 and contributed 416 points to the Eagles' efforts.
"It's a really cool event," he said. "I'm glad it's coming back to the U.S. It was a really good turnout the first one we had a few months ago. I'm just excited to get back in front of the home crowd.
"I'm really excited about it, so I'd better get my butt in gear and earn a spot on that team."
It's been a frustrating season for Eldred, despite his No. 23 ranking in the world standings that would be a career best should the season end today. He suffered a broken jaw at the Bad Boy Mowdown in Little Rock, Arkansas, in early March, which sidelined him for almost two months. But he has two Top 5 finishes on the Unleash The Beast this season and finished second at PBR Canada's Iron Cowboy to keep himself safely within the Top 35.
Most recently, Eldred finished sixth at Last Cowboy Standing at Cheyenne Frontier Days, the penultimate PBR Major on the 2019 schedule. The next Major, the Jack Daniel's Music City Knockout, presented by Cooper Tires, heads to Nashville on Aug. 24-25.
In June, it was announced that Justin McBride and J.W. Hart will be returning as head and assistant coach, respectively, for the Team USA Eagles when the 2020 Global Cup returns to Arlington, Texas. It was also announced that coaches will have full selection power over their rosters.
Eldred's prior performance on the global stage could simply speak for itself.
Even just getting the opportunity to don the red, white and blue has been the thrill of a lifetime.
"It's something we've dreamed about as little kids, wanting to be bull riders, seeing Justin and J.B. (Mauney) and them going down to Brazil and winning the World Cup down there and stuff like that," Eldred said. "They only take six guys, so getting to be a part of that's pretty special, and it's a huge accomplishment. I'm just glad that I had the opportunity to be a part of that team."
It's a team that Eldred praises so effusively, despite falling short of a second Global Cup victory behind Team Brazil.
The Eagles held a brief lead on the second day of competition, when Nance rode Blue Crush for 87 points in Round 3. Jose Vitor Leme would go on to immediately ride Biker Bob for 89.25 points to put the Brazilians back in front, but Eldred gives Nance all the credit in the world for his ride.
"We all thought he was bucked off at four or five seconds, and to see him get out of the well and keep riding and keep fighting like Cody Nance does, and like the rest of the guys on our team, that just shows what our team's made of," Eldred said. "All the guys on our team are like that and are going to fight until the end, especially when we put our country on the line and we all get to team up in that locker room.
"At that point, after he stayed on, we thought we had it won."
The Team USA Eagles haven't had the Global Cup won since the inaugural event in Edmonton, a fact that they hope to change come February. But the lack of trophies hasn't prevented Eldred from appreciating the experiences, nor the big rides.
"They were all pretty exciting, because all the guys were back there on the chutes rooting for each one of you," he said. "There are some big rides at the Global Cups from all the teams that put us up there."
While there are plenty of milestones Eldred is trying to hit beforehand – his first premier series win of the season and the PBR World Finals on Nov. 6-10 among them – he hopes to be able to represent his country again come February.
Because when national pride is involved, it's personal.
"It means everything," Eldred said. "We've got guys fighting for our country and putting their lives on the line. That's the least I could do to try to represent my country the best that I could, in the best way possible.
"To put on them colors – I bleed red, white and blue. It's my country. I love it. Any time you can compete for your country, it's a pretty special moment."