Tulsa 15/15 preview: Outlaw takes on Heartbreak Kid as Unleash The Beast returns
By : Darci Miller
August 07, 2019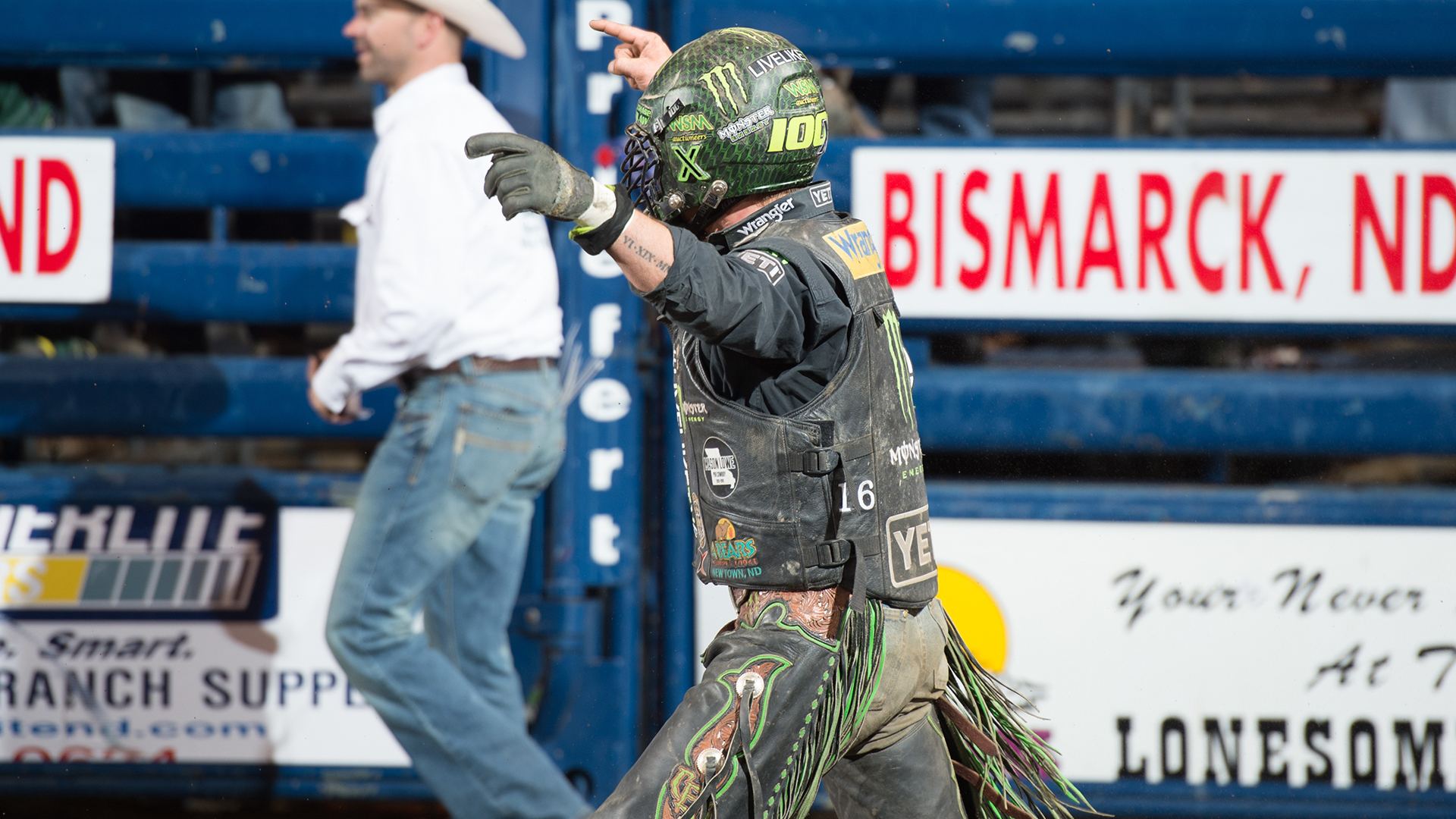 PUEBLO, Colo. – Chase Outlaw will waste no time testing his mettle as the No. 1 bull rider in the world.
Of course, Outlaw is no stranger to testing his mettle.
Two and a half weeks ago, Outlaw dethroned then-No. 1 Jose Vitor Leme at Last Cowboy Standing at Cheyenne Frontier Days, earning the event win exactly one year to the day after a brutal wreck in the same arena left him with more than 30 broken bones in his face.
RELATED: Outlaw: 'This has been harder for my family than it is for me'
Since Last Cowboy Standing, Outlaw suffered a concussion at the Big Sky PBR Touring Pro Division event in Big Sky, Montana, when 4 Bears knocked him out in 2.68 seconds in Round 2.
Outlaw has taken the subsequent two weeks off, but will be back in action at the Express Ranches Classic, presented by Osage Casino and Hotel, in Tulsa, Oklahoma, on Aug. 10-11.
Outlaw is also in the draw for the 15/15 Bucking Battle, and will take on Heartbreak Kid (34-0, UTB).
Fans can watch the 15/15 Bucking Battle on CBS national television on Sunday at 1 p.m. ET.
The last time Outlaw and Heartbreak Kid faced off, it was indeed heartbreak for the Hamburg, Arkansas, bull rider. In Round 6 of the PBR World Finals, Outlaw bucked off in 3.67 seconds, dashing his hopes of winning the event title in what was only the start of his incredible comeback.
Instead, Heartbreak Kid was scored 46 points, the event win went to Marco Eguchi and Outlaw finished the season ranked No. 16.
Since then, Heartbreak Kid has extended his Unleash The Beast buckoff streak to 34, a mark that ties him with Mick E Mouse for the fourth-longest streak of all time.
The only 8-second ride ever surrendered by Heartbreak Kid came at the January 2017 Denver Velocity Tour event when Luciano de Castro rode him for 75 points and turned down a re-ride. Overall, Heartbreak Kid has bucked off 54 consecutive riders at all levels of competition.
Nine more premier series buckoffs and Heartbreak Kid would break three-time World Champion Bushwacker's record of 42.
But he will have to go through Outlaw to do so.
That being said, Heartbreak Kid has already disposed of three World Champions in his 10-0 campaign in 2019 – Cooper Davis, Jess Lockwood and Silvano Alves – and has gone a combined 6-0 all time against PBR and PRCA champions at all levels of competition – Davis, Lockwood (2x), Alves, Sage Kimzey and Kaique Pacheco.
Heartbreak Kid has also bested Leme, tossing him to the dirt in 1.69 seconds in Billings, Montana, to improve to 3-0 against the 2017 Rookie of the Year.
"He is very unpredictable and strong," Leme told PBR.com in April. "Every time he jumps different. That is what makes him different from other bulls. He is impossible to study because we never know what he is going to do.
"He sure is a bull that no cowboy wants to ride."
15/15 Bucking Battle Matchups
Ezekiel Mitchell vs. Fearless (18-1, UTB)
Cody Jesus vs. SweetPro's Bruiser (52-13, UTB)
Mason Taylor vs. Canadian Mist (22-3, UTB)
Claudio Montanha Jr. vs. Smooth Wreck (16-4, UTB)
Lucas Divino vs. Wild Goose (21-5, UTB)
Matt Triplett vs. Legit (11-1, UTB)
Ryan Dirteater vs. Smooth Operator (63-7, UTB)*
Derek Kolbaba vs. Zorro (18-1, UTB)
Luciano De Castro vs. Soup in a Group (22-1, UTB)
Cooper Davis vs. Cochise (49-16, UTB)*
Cody Teel vs. Big Black (21-6, UTB)
Joao Ricardo Vieira vs. Old Fort Days (19-0, UTB)
Jess Lockwood vs. Bezerk (23-8, UTB)
Jose Vitor Leme vs. Lil 2 Train (9-3, UTB)*
Chase Outlaw vs. Heartbreak Kid (34-0, UTB)*
*Rematch
RELATED: Tulsa daysheet
Ezekiel Mitchell is in the 15/15 Bucking Battle as a replacement for No. 13 Aaron Kleier, who remains in his native Australia. Mitchell will take on Fearless (18-1, UTB), who was ridden for the first time by Ryan Dirteater for 89 points in Albuquerque, New Mexico.
In addition to Outlaw and Heartbreak Kid, there are three other rematches in the 15/15, none of which have previously worked out very well for the rider.
Dirteater was bucked off by Smooth Operator in 2.88 seconds in Milwaukee, Wisconsin, in October 2018. Smooth Operator scored 46 points.
In May, Leme bucked off Lil 2 Train in the 15/15 Bucking Battle in Albuquerque in 5.33 seconds. Lil 2 Train was scored a career-best 46.5 points.
Cooper Davis was bucked off by Cochise in 3.83 seconds in at Last Cowboy Standing in 2016, dashing Davis' hopes of winning the PBR Major en route to his world title win later that year.
In addition, Heartbreak Kid is not the only bull looking to remain unridden in Tulsa. Old Fort Days takes a buckoff streak of 19 into Tulsa, where he faces world No. 4 Joao Ricardo Vieira. Old Fort Days has bested World Champions Alves and Pacheco this season, and last bucked off Eguchi in 3.63 seconds at the Green Bay Invitational in June.