Tulsa draw: Vieira returns to UTB following shoulder surgery
By : Darci Miller
August 07, 2019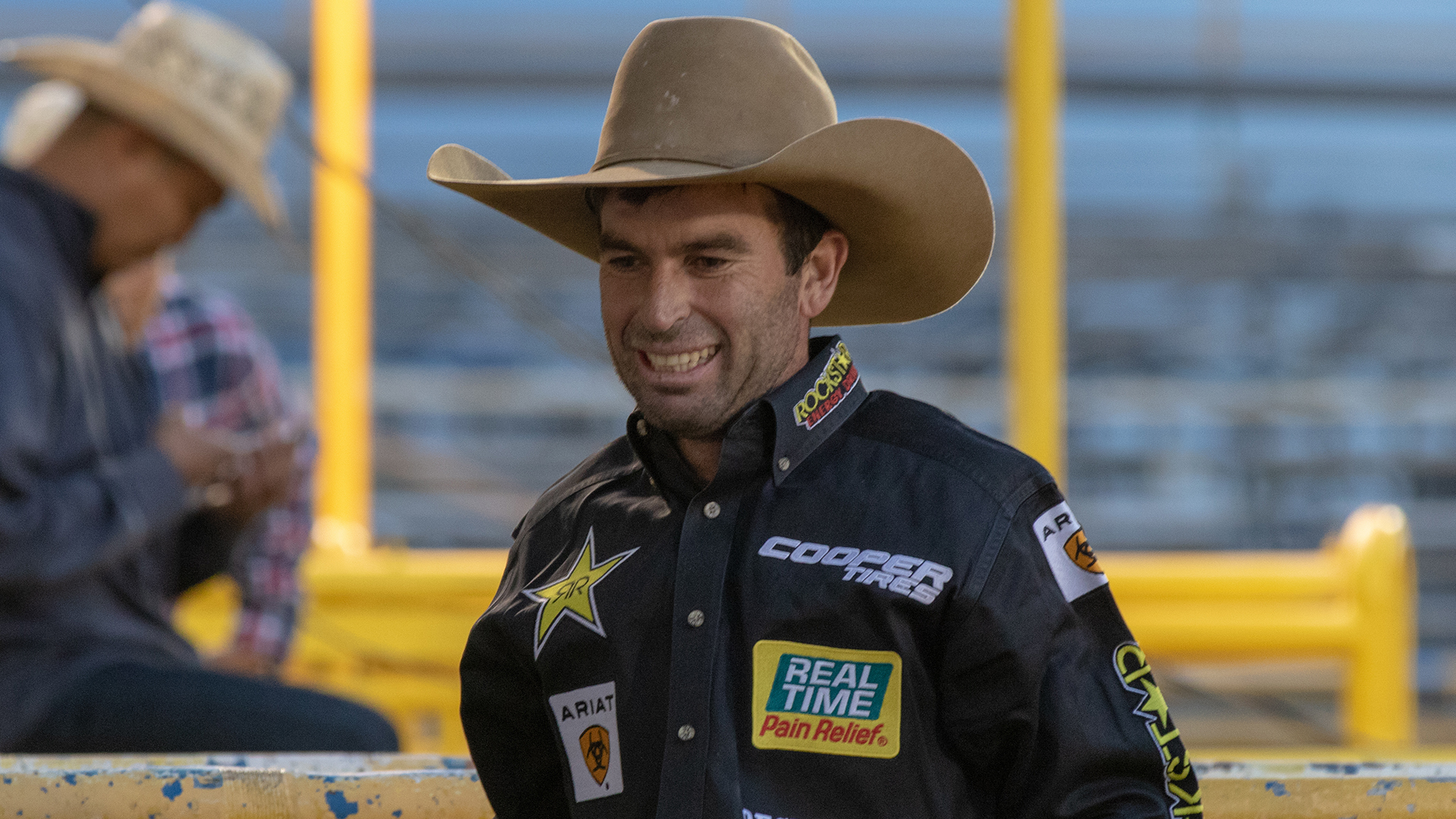 PUEBLO, Colo. – As the Unleash The Beast returns from its summer break, one rider is also making his return from a long layoff with an eye on the PBR World Finals: Fabiano Vieira.
The eight-time PBR World Finals qualifier has been sidelined since shoulder surgery in February, and has not competed in any PBR events since the initial injury in January.
But at long last, he will return at the Express Ranches Classic, presented by Osage Casino and Hotel, in Tulsa, Oklahoma, this weekend.
Fans can watch Round 1 on Saturday at 7:30 p.m. ET on RidePass. Vieira will face off against Strange Cargo (6-0, UTB).
RELATED: Tulsa daysheet
The 36-year-old avoided surgery for five years, adamant that he would never go under the knife to repair either of his chronically injured shoulders.
That resolution was finally put aside, however, when he dislocated the shoulder of his free arm when he was bucked off by Losing My Religion in 7.11 seconds at the season-opening Monster Energy Buck Off at The Garden, presented by Ariat, in New York City.
RELATED: Vieira out six months following surgery
Vieira decided to get over his fear of needles and surgery after spending three hours at a hospital waiting to get his shoulder put back into place.
"This last time in New York, I was in a lot of pain," Vieira told PBR.com in January. "It took so long to put my shoulder into place. It is not good to win with. My shoulder cannot stay in its place. I think now I have to."
Vieira has been battling various shoulder injuries since 2014, dislocating his right shoulder at the Rumble in the Rockies in Colorado Springs, Colorado, when he was bucked off by Cowtown Slinger in 7.85 seconds. He'd already had a torn rotator cuff that season.
Interestingly, Vieira went on to have the best stretch of his career beginning in 2014, when he finished the season ranked No. 5 in the world standings. He improved to No. 4 in 2015 and remained in the Top 10 through 2017.
The 37-year-old has qualified for every PBR World Finals since 2011 and hopes to have at least one more in him.
"If I do the surgery and my shoulder stays in good condition, I want to ride for another 10 years," Vieira said, laughing, in January.
OUTLAW BRINGS 370.84-POINT LEAD INTO TULSA
After an emotional win at Last Cowboy Standing at Cheyenne Frontier Days two weeks ago – exactly one year after a gruesome wreck in the same arena required 12 hours of emergency facial reconstructive surgery to repair – Chase Outlaw heads to Tulsa with a 370.84-point lead atop the world standings.
World No. 2 Jose Vitor Leme is fresh off a win at the Allen, Texas, Touring Pro Division event that netted him 60 world points to begin closing the gap.
Outlaw has drawn Chuck & Larry (3-1) in Round 1, while Leme will take on Red Solo Cup (19-8).
KASEL TO MAKE UTB DEBUT
Dalton Kasel will make his UTB in Tulsa as an invite of the PBR competition committee. Kasel recently won his second career PBR event at the Big Sky PBR in Big Sky, Montana, beating out the likes of world No. 4 Joao Ricardo Vieira in the process.
Ranked No. 42 in the world standings, Kasel has earned 428.75 world points since June 1 and trails No. 35 Danilo Carlos Sobrinho by 156.25 points.
Kasel has drawn Sun Country (3-1, UTB) in Round 1.
Lane Granger will also be competing as a Native American invite. The younger brother of Justin Granger, he is making his UTB debut and is currently ranked No. 3 in the INFR standings. Granger will face Hailstorm (2-1) in Round 1.
Alternates competing in Tulsa include No. 34 Scottie Knapp, No. 35 Sobrino, No. 38 Michael Lane and No. 39 Kurt Shephard.
Tulsa will be Shephard's UTB season debut, as the Mareeba, Australia, native spent most of the first half of the season competing in Pendleton Whisky Velocity Tour events. He spent the summer in Australia, going 10-for-16 since June 1.
Shephard will take on Concealed Carry (5-2, UTB) in Round 1.
The group is replacing No. 13 Aaron Kleier (personal choice), No. 19 Cannon Cravens (leg), No. 28 Dakota Buttar (hip) and No. 30 Colten Jesse (shoulder).
ROUND 1 REMATCHES
Chase Outlaw vs. Chuck & Larry (87 points this year in Cassville, Missouri)
Dener Barbosa vs. Honey Man (90 points this year in Allen, Texas)
Joao Ricardo Vieira vs. Bulls Eye (89.5 points this year in Allen, Texas)
Keyshawn Whitehorse vs. Red Bones (6.11 seconds this year in Albuquerque, New Mexico)