Tulsa injury updates: Swearingen cashes in with Davis (concussion) out of 15/15; Taylor battles through shoulder injury for career-best ride
By : Justin Felisko
August 11, 2019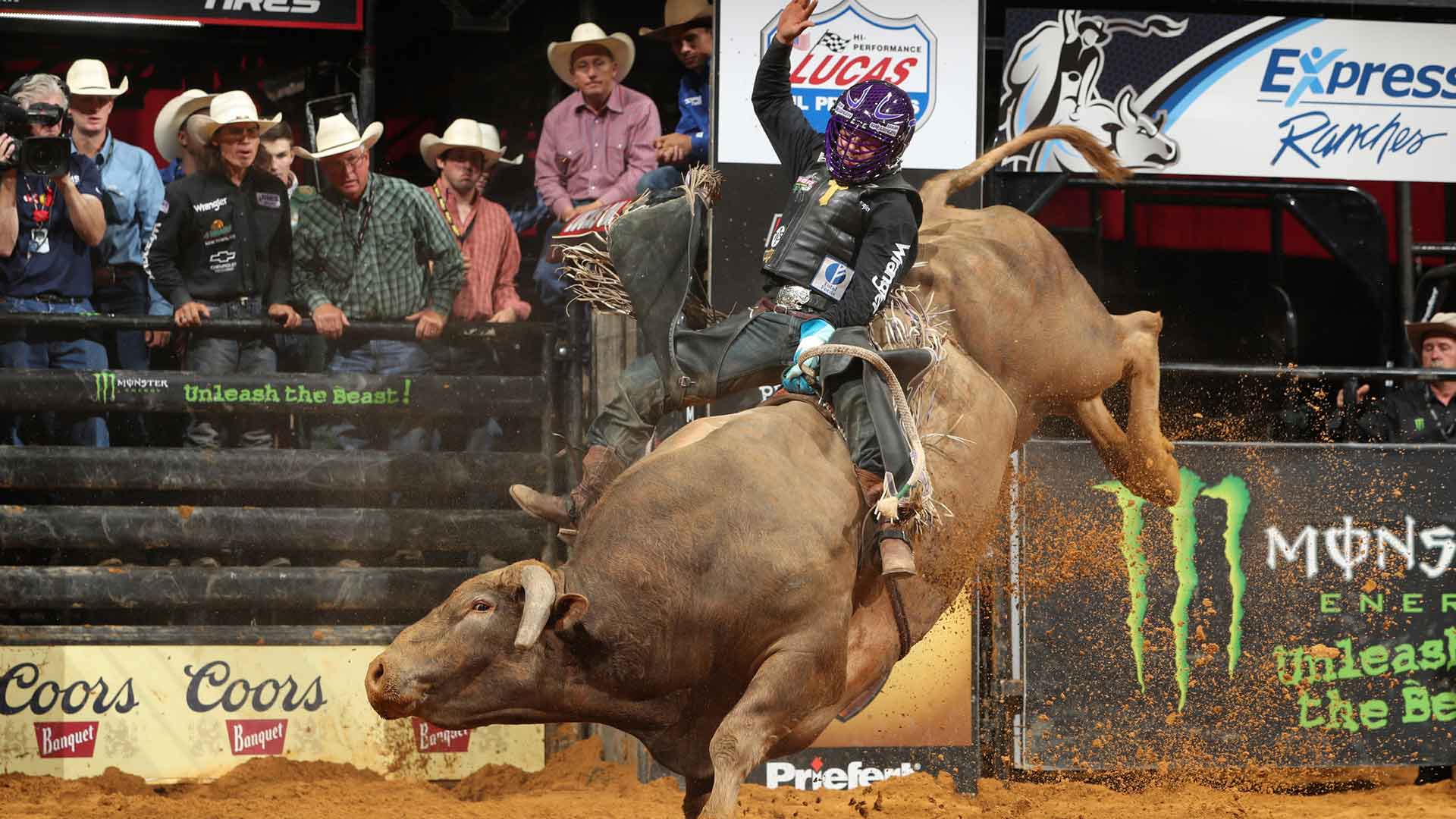 TULSA, Okla. – Daylon Swearingen quickly began to rummage through his gear bag inside the locker room shortly before the beginning of the 15/15 Bucking Battle on Saturday night.
The 20-year-old frantically grabbed his spurs and began getting prepared for the bonus round of competition held inside the BOK Center following Round 1 of the Express Ranches Classic, presented by Osage Casino.
Swearingen had maybe 10 to 15 minutes to get ready to take on Cochise in his first ever 15/15 Bucking Battle appearance after 2016 World Champion Cooper Davis was ruled out fowith a concussion by Dr. Tandy Freeman after being bucked off by Catfish John in Round 1.
Davis is officially questionable for Round 2 on Sunday.
The lack of time to prepare may have been a blessing in disguise for Swearingen, who inherited a fantastic matchup against the Gene Owen and Jane Clark bucking bull.
Swearingen went on to ride Cochise for a career-high 92 points to split the 15/15 Bucking Battle victory with Jess Lockwood (92 points on Bezerk).
"I wasn't even supposed to have that bull, and I had the opportunity," Swearingen said. "So I had to capitalize on the opportunity to get on that bull. Just go to it. It probably worked out better that I didn't know (I was in). I just went out and did what I know how to do, not thinking about it."
Cochise has now been ridden seven times for 90.25 points or higher this season.
"He's just real good around to the left," Swearingen said. "He read the middle, he kind of rocked me over a little bit and I had to kick loose and get back. Just a good bull to get on."
Swearingen – the No. 16-ranked rider in the world and No. 5 rookie – picked up 120 points toward the world standings.
The Piffard, New York, native trails Rookie of the Year leader Lucas Divino by 147.5 points.
Lockwood tipped his hat to Swearingen.
"He spurs the hell out of everything," Lockwood said. "He spurs better than anyone I've ever seen. Freaking quick, snappy and gets 'em rode."
Fellow rookie Mason Taylor fought off a right shoulder separation during Round 1 and stormed back in the 15/15 Bucking Battle to ride Canadian Mist for a career-high 90.5 points.
"Oh man, that thing, he bucks the whole time," Taylor said. "He's really steep. He's got everything to be a freaking bucking bull. Honestly, I don't know how I rode him, other than the fact that instincts kicked in and everything was firing on all cylinders to take pain away from my shoulder. Glory to the man upstairs for letting me be able to do this and, hey dad, I told you I'd ride him."
Taylor originally got hurt during his dismount in Round 1 following an 82-point effort on Ridin Solo.
The 20-year-old was not going to let the injury hold him back from competing in the nationally televised 15/15 Bucking Battle (CBS at 1 p.m. ET on Sunday).
"Man, there comes a time where every bull rider in his career has to remind himself what kind of hat he wears on his head," Taylor said. "I separated my shoulder on the first bull, and I was really thinking about it, and I thought, God's got a plan for everything. I don't want J.W. Hart to call me (out), so I decided I was going to nut up and get on him.
"And it worked out for 90.5 and I can't be more thankful."
Taylor finished third in the 15/15 Bucking Battle for 75 world points. He sits only 53.34 points behind Divino.
The Maypearl, Texas, native will look to take over the lead in the Rookie of the Year race Sunday.
Taylor has drawn Black Rose (13-12, UTB) for Round 2.
Fans can watch all the action from Championship Sunday on CBS Sports Network at 6 p.m. ET and RidePass at 3 p.m. ET.
Taylor expects his shoulder to be OK on Sunday.
"Oh, damn right," he said. "I keep riding in the middle like that, ain't nothing going to hurt."
BURTENSHAW HOPEFUL TO COMPETE SUNDAY
In a freak deal, Nathan Burtenshaw may have torn his left meniscus Saturday night.
Burtenshaw was on the back of the bucking chutes pulling Kurt Shephard's rope in Round 1 when Uncle Gangster left the chutes with Jess Lockwood, causing Burtenshaw to lose his balance.
Burtenshaw jumped off the gate onto the dirt when his left knee gave out on him. The PBR Sports Medicine team then had to assist Burtenshaw to the sports med room to be looked at.
The 25-year-old has already sustained a broken collarbone, fractured a bone in his riding hand and tore tendons in his back this season, and now he has injured the same knee in which he tore his ACL last year.
Burtenshaw is hopeful he will be able to take on Crazy Times (4-3, UTB) in Round 2 on Sunday.
The Coonamble, Australia, native said if he can get the swelling in his knee to go down he will give it a go in the final rounds at the BOK Center.
Burtenshaw's 66.25-point effort on Mad Child has him sitting in 18th place. He was originally going to take a re-ride option before the unexpected injury occurred.
Follow Justin Felisko on Twitter @jfelisko