Outlaw ends historic night of 15/15 Bucking Battle action with gold buckle guts
By : Justin Felisko
August 11, 2019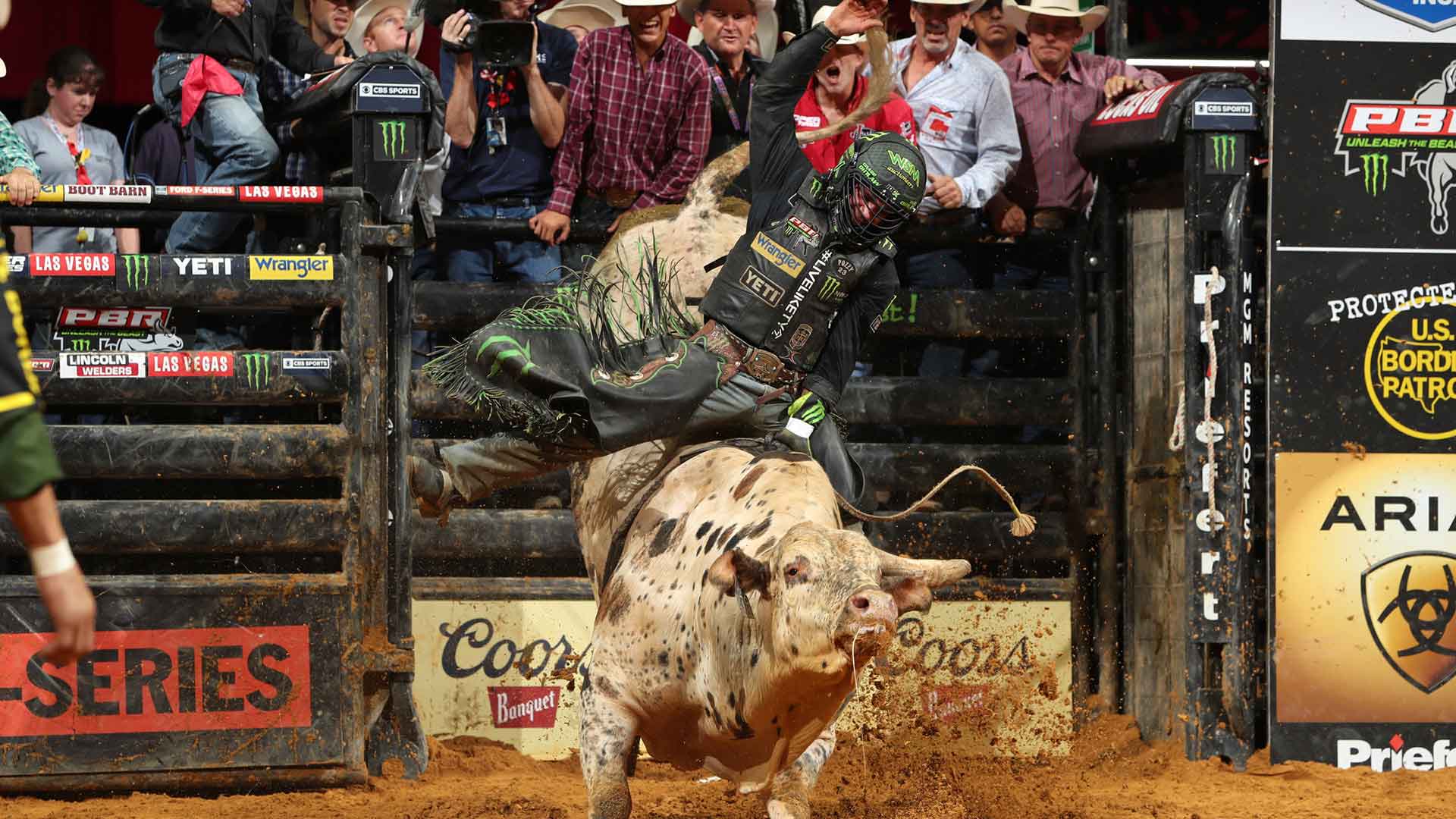 TULSA, Okla. – World No. 1 bull rider Chase Outlaw slouched over in his chair inside the locker room and inhaled the fresh air from the oxygen mask that a local EMT quickly offered to him following the 15/15 Bucking Battle Saturday night at the BOK Center.
Outlaw had just finished off an inspiring effort to cap off a historic night of competition in Tulsa.
The 27-year-old world leader attempted four bulls Saturday night, including three in the 15/15 Bucking Battle in a span of roughly 10 minutes.
Outlaw refused to be a victim of fatigue or weakness, and instead channeled the guts necessary to win a World Championship and rode Bottoms Up for 88.5 points.
It was the ninth qualified ride of the 15/15 Bucking Battle, which is a new PBR record for most rides in a 15/15.
The previous high was eight rides back in Hollywood, Florida, on October 13, 2013.
The final ride of the night was no easy task for Outlaw to accomplish either, but it was the latest example of the gold buckle guts and toughness that he is showing he is made of this season.
"I mean, this is what we're here to do, is to be a World Champion," Outlaw said. "And ain't no step of the way easy, and if you want it, that's what you're going to have to do. That's part of it. This sport is not scripted. So yeah, just had to keep freaking doing it."
Fans can watch the 15/15 Bucking Battle Sunday at 1 p.m. ET on CBS national television.
Outlaw first received a re-ride when Heartbreak Kid fell out of the bucking chute with him when he nodded for the gate. He then received a second re-ride after bucking off Crazy Wolfy.
2002 World Finals event winner J.W. Hart, Bottoms Up's stock contractor, made sure to congratulate Outlaw on the effort after the 15/15 Bucking Battle.
"That's guts, ain't it?" Hart said. "Guts and nuts."
Hart brought up another factor when looking back at Outlaw's late-night performance.
There was not only the physical fatigue Outlaw dealt with, evidenced by the sweating pouring down his face on the back of the chutes that he had to wipe off using a blue handkerchief handed to him by his dad, but the mental fatigue.
"It's hard physically, and it's hard for Outlaw because he puts so much effort mentally into every ride," Hart said. "And that's why them Last Cowboy Standing stuff, I know he won one, but that's why they're hard on him. He puts out so much effort it drains him. He's drained after one or two, but to dig that deep? Them first two, there wasn't much riding to it, but he still puts out so much energy that it's going to be tough in sessions like that.
"He pulled it out."
As he sat in the locker room with an oxygen mask in one hand and a bottle of water in another, Outlaw agreed that there is a mental challenge to attempting three bulls in 10 minutes.
Outlaw actually made sure to congratulate 2012 PRCA champion Cody Teel for attempting three bulls in 12 minutes during Last Cowboy Standing at Cheyenne Frontier Days last month.
"You just have to mentally clear yourself and just regroup, regather," Outlaw said. "I liked it. Chad (Berger) came back there and told me, 'Don't rush.' He said, 'We're going to go on your time."
Outlaw walked down the hallway following his ride on Bottoms Up and let out a roar.
He had a message for his bovine challengers.
"If those son of a guns want to buck me off, they're going to have to come take it!" he said.
The seven-time PBR World Finals event winner rode Chuck and Larry for 87 points earlier in the night in Round 1 to leave the BOK Center Saturday night with 32.5 points toward the world standings.
The Hamburg, Arkansas, native leads No. 2 Jose Vitor Leme by 403.34 points in the world standings.
Outlaw is slated to take on Lefty (17-3, UTB) in Round 2.
CBS Sports Network (6 p.m ET) and RidePass (3 p.m. ET) will air all the action from Championship Sunday.
There were also five 90-point rides in the 15/15 Bucking Battle for the first time in seven years, which ties a PBR record,
Jess Lockwood (92 points on Bezerk)
Daylon Swearingen (92 points on Cochise)
Mason Taylor (90.5 points on Canadian Mist)
Luciano de Castro (90.25 points on Soup in a Group)
Cody Jesus (90.25 points on SweetPro's Bruiser)
There were five 90s on May 12, 2012, in Nampa, Idaho, and January 28, 2012, in Sacramento, California.
Outlaw made a sensational 94.75-point ride on World No. 1 bull Smooth Wreck this summer at Chad Berger's $125,000 Team Challenge, presented by Marquis Metal Works, when there were eight 90-point rides.
Bismarck and Tulsa reiterated to Outlaw just how talented the current crop of Top 35 riders is.
"Man, this is what it is all about," Outlaw concluded. "They call us the best in the world. Whenever we come to these events and sometimes we ride four bulls in a night, people say, 'They're the best in the world?' We were tired of that. We have finally decided to show up and bow up.
"This is my eighth year now, and this year I have seen things I have never witnessed. Shit is just getting good."
Follow Justin Felisko on Twitter @jfelisko