Dirteater injured in Tulsa; Mauney to get MRI on right shoulder
By : Justin Felisko
August 11, 2019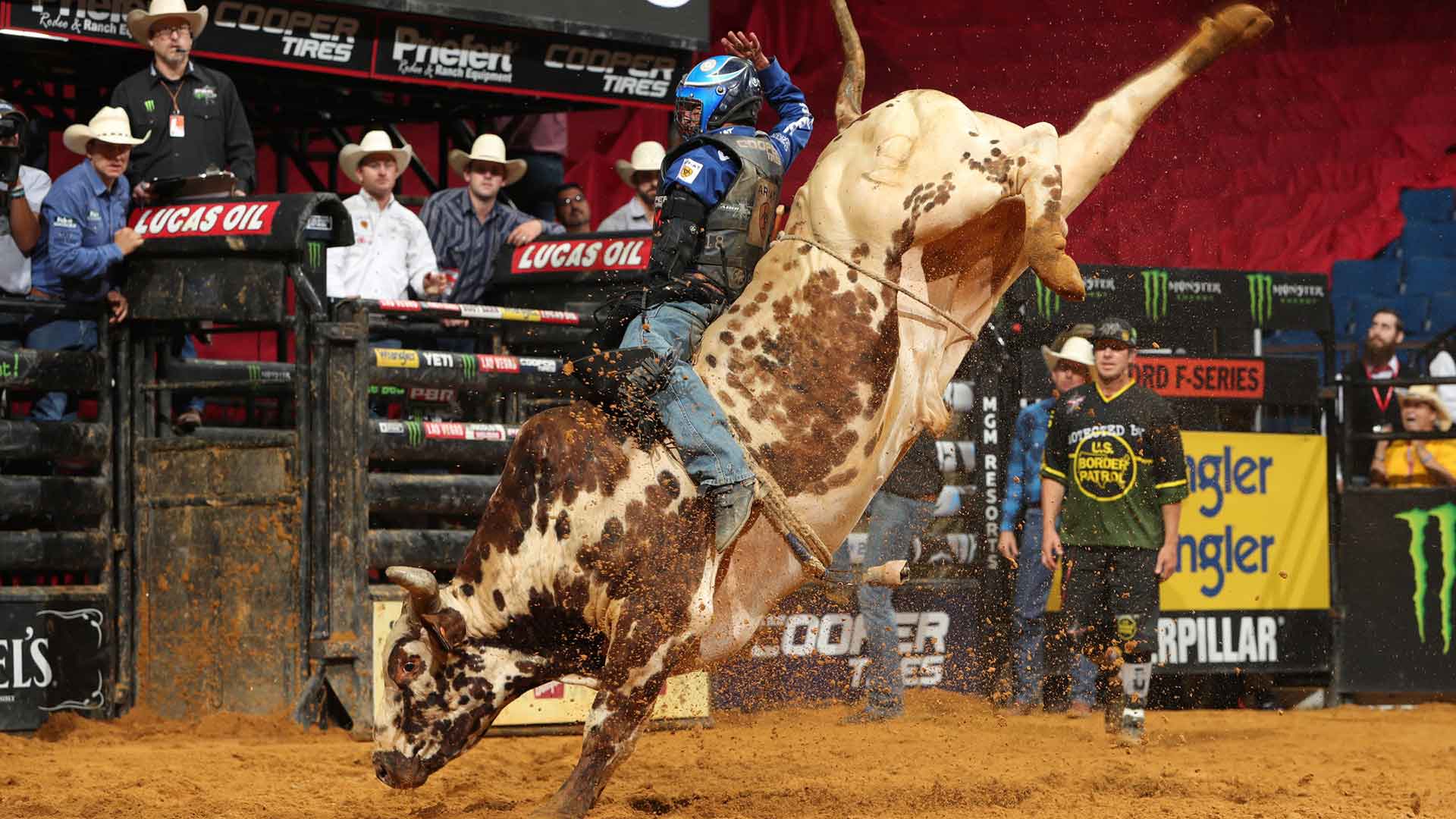 TULSA, Okla. – Oklahoma cowboy Ryan Dirteater's perfect weekend in his home state did not end the way he would have liked on Sunday afternoon at the BOK Center.
Dirteater was transported to a local hospital for further evaluation after M.A.G.A. stepped on his mid-back and ribs following the Hulbert native's 86.75-point ride in the championship round of the Express Ranches Classic, presented by Osage Casino.
PBR Sports Medicine Director Rich Blyn said on Sunday afternoon that Dirteater sustained broken ribs and may have a possible punctured lung as well.
Dr. Tandy Freeman later confirmed that Dirteater was admitted to the hospital with a collapsed right lung and was diagnosed with a lacerated liver and several rib fractures.
Dirteater is expected to remain in the hospital for a few days and will be out of competition for about three months.
Thanks for all the prayers, and messages people are sending me. I'm trying to get back with everyone the best I can. The good news is I'm going to be ok. Just a little bump in the road. I'll be back💪👊 pic.twitter.com/E4w1PlpRQz

— Ryan Dirteater (@ryandirteater) August 13, 2019
Dirteater was close to flawless in Tulsa before getting hurt. Outside of his buckoff against Smooth Operator in the 15/15 Bucking Battle Saturday night, Dirteater made easy work of his opponents in front of a raucous crowd cheering him on.
The 30-year-old jumped up to No. 9 in the world standings after he earned 205 world points by riding Test Me (86 points), Red Bandana (86 points) and M.A.G.A.
Dirteater has five Top-5 finishes in 2019.
MAUNEY TO GET MRI
Two-time World Champion J.B. Mauney's pursuit of career ride No. 526 will once again wait at least one more week following an 0-for-2 performance at the BOK Center.
Mauney's status for the upcoming WinStar World Casino and Resort Invitational, presented by Bass Pro Shops, next weekend in Houston may be in jeopardy as well.
The 32-year-old said he will undergo an MRI on Monday in Dallas to determine the severity of a right shoulder sprain he sustained in Round 1 when Foghorn Leghorn bucked him off in 4.02 seconds.
"I don't know if it was from hitting the ground or what happened, but it is a little sore," Mauney said. "I didn't feel it until I got back here and started taking everything off and I went to move it a certain way. It is grinding and popping. Tandy (Freeman) thinks it could be the rotator cuff. I don't know. It could be the bicep tendon. There is no telling."
Mauney underwent serious reconstructive shoulder surgery on his right shoulder two years ago when he was wrecked out at the 2017 Calgary Stampede.
The North Carolina native underwent treatment from the PBR Sports Medicine team Sunday morning, using hot and cold compression on the shoulder before taping it.
However, Mauney was unable to reach 8 seconds in Round 2 as Dixie Explosion bucked him off in 4.64 seconds.
Mauney cannot afford to miss much time if he hopes to qualify for the 2019 PBR World Finals.
The No. 32-ranked bull rider is only 126.66 points ahead of No. 36 Brady Fielder in the world standings. There are eight regular-season Unleash The Beast events remaining before the World Finals.
"I'll find out tomorrow, I guess," Mauney said of his shoulder. "Hopefully we will find out what is going on by the end of the day.
"It is what it is."
DAVIS MISSES CHAMPIONSHIP SUNDAY WITH CONCUSSION
2016 World Champion Cooper Davis did not compete on Sunday because of the concussion he sustained in Round 1 on Saturday night when he was bucked off by Catfish John.
EGUCHI QUESTIONABLE FOR HOUSTON
2018 PBR World Finals event winner Marco Eguchi is questionable for Houston because of a left UCL sprain in his non-riding hand. Eguchi was bucked off by Struttin Stuff in 1.98 seconds in Round 2.
BURTENSHAW EXPECTS TO RIDE IN HOUSTON
In a freak deal, Nathan Burtenshaw may have torn his left meniscus Saturday night.
Burtenshaw was on the back of the bucking chutes pulling Kurt Shephard's rope in Round 1 when Uncle Gangster left the chutes with Jess Lockwood, causing Burtenshaw to lose his balance.
He jumped off the gate onto the dirt and his left knee gave out on him.
According to Blyn, Burtenshaw will get an MRI this week to determine if he tore his meniscus.
However, Burtenshaw said he expects to ride in Houston regardless of what the MRI may find.
Crazy Times bucked Burtenshaw off in 4.26 seconds on Sunday.
Follow Justin Felisko on Twitter @jfelisko