The LVCVA Road to Vegas: Smooth Wreck and Smooth Operator neck and neck in YETI World Champion Bull Race
By : Justin Felisko
August 12, 2019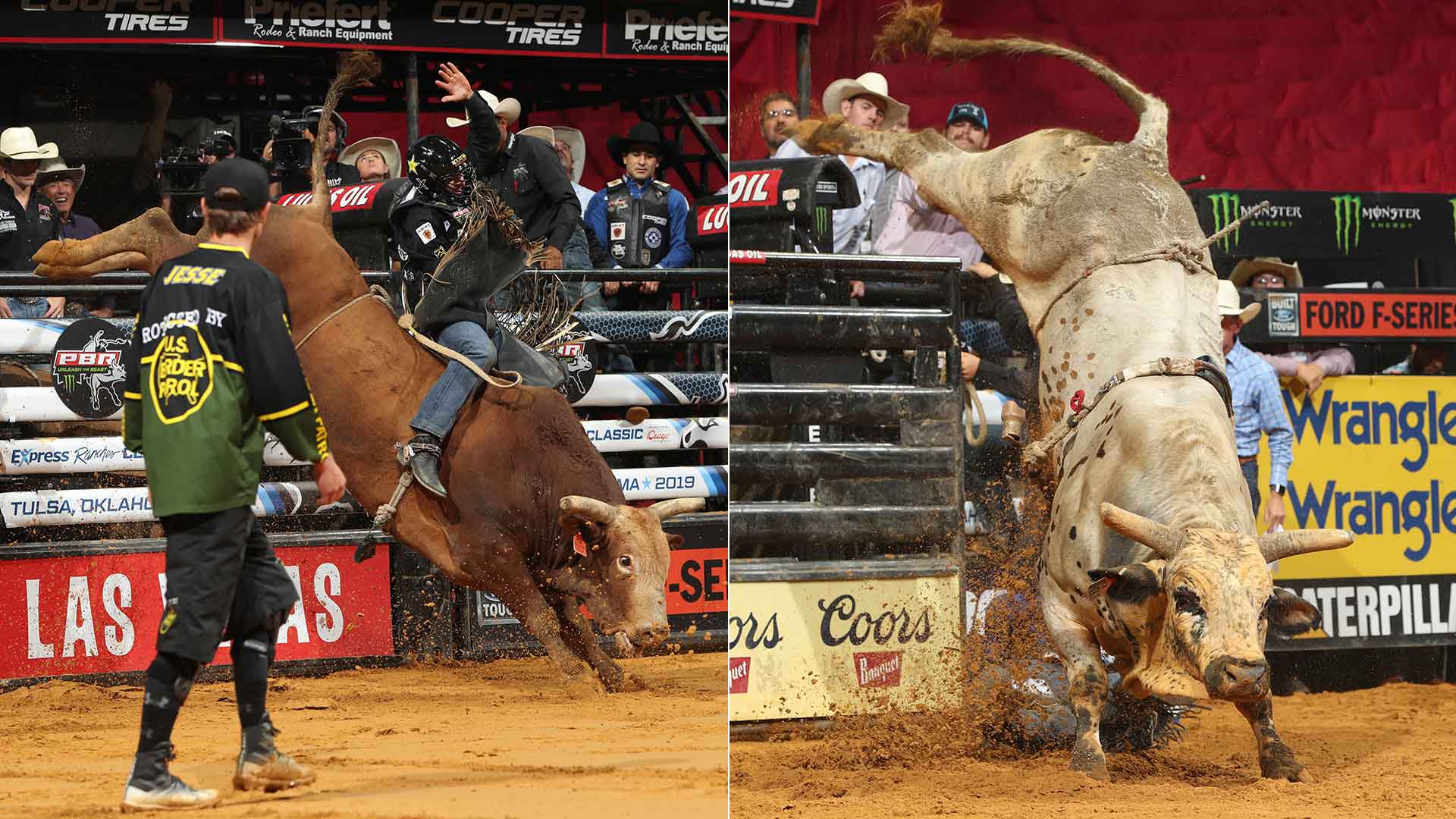 TULSA, Okla. – Reigning Stock Contractor of the Year Chad Berger knows what he would prefer to see happen in the YETI 2019 World Champion Bull race.
As of now, the top spots in the World Champion Bull standings belong to his bulls Smooth Wreck (45.66) and Smooth Operator (45.63).
A mere .03 points separate the two bovine superstars.
When asked who is his preference was to win the 2019 title, Berger punted.
"I hope they tie," he said with a smile. "Then I get two buckles."
Not only would Berger receive two buckles, but he would also take home potentially $160,000.
Regardless, there is still much to be decided between now and the 2019 PBR World Finals (Nov. 6-10 in Las Vegas) in regards to the World Champion Bull race.
Smooth Operator reasserted himself as a true contender this past weekend at the Express Ranches Classic, presented by Osage Casino, after appearing as if he had lost some steam in the last three events.
One of the oldest bulls in the World Champion Bull race at 9 years old, he erupted out of the bucking chute inside the BOK Center on Saturday night to dispose of Ryan Dirteater in 2.56 seconds for a 46-point bull score.
Smooth Operator was able to battle his way through subpar dirt conditions and did not let deeper-than-normal dirt prevent him from displaying his brute power and strength.
"This dirt is terrible," Berger said. "I don't want to sound like a whiner. I was just so glad he bucked the way he did. I was glad when we were done here. That bull really bucked. He had a great day and that moved him up there."
Smooth Operator had failed to be marked over 45 points in two consecutive events, and his 46-point score is his first since earning 46 points for 5.62 seconds of work against Cannon Cravens on March 31 in Tacoma, Washington.
Berger said he was never concerned about the possibility that maybe age was catching up to his ace.
"I've always kept him in the conversation because I have a lot of faith in that bull," Berger said. "We have spent a lot of time, heart, sweat and tears keeping him healthy. I always keep him in the conversation because I know for him to even buck like that he has to have a big heart because he had to battle a lot of things."
This weekend was the second time Dirteater and Smooth Operator matched up.
Smooth Operator previously bucked Dirteater off in Milwaukee, Wisconsin, last season in 2.88 seconds for a 46-point bull score.
"He is good," Dirteater said. "He got me raised up. I tried to cut him off and he is too strong to be cutting off. I felt the full force."
The Hulbert, Oklahoma, native then chuckled.
"The first time he clicked my heels," he said. "I didn't get my heels clicked this time, so I fixed that part."
Two-time World Champion and CBS analyst Justin McBride commended Smooth Operator for standing out on a weekend when many of the top bulls struggled.
"On a day where a lot of the top bulls are having off days, which one is going to step up and take advantage?" McBride said on national television. "There ya go. Smooth Operator with a 46. That is big."
Tulsa was an opposite story for Smooth Wreck.
The No. 1-ranked bull in the world looked far from that.
Smooth Wreck appeared a little bit lost leaving the bucking chutes at the BOK Center. After a few jumps, he headed straight down the chute line and Claudio Montanha Jr. held on for 81.5 points.
The 6-year-old bull was scored a career-low 39.75 points.
Berger said he is not concerned, though, and believes the ground conditions likely affected his bull's ability to live up to his standards.
"I am going to blame it on the ground," Berger said. "He is a bull that really hits, and his front feet just slid in that dirt and he backed on out of there. Some of these bulls don't want nothing to do with that. That is the only excuse I got for him.
"If they have good ground in Nashville, I promise you he will be right there."
The good thing for Smooth Wreck is he can essentially throw that poor score out the window when it comes to the 2019 title race.
The 2019 World Champion Bull is the bull with the highest World Champion Bull average based on his best eight premier series outs and two outs at the 2019 PBR World Finals.
Berger said fans can expect to next see the top two bulls in the world clash at the Jack Daniel's Music City Knockout, presented by Cooper Tires, in Nashville on Aug. 24-25.
Neither bull will buck in Houston this coming weekend at the WinStar World Casino and Resort Houston Invitational, presented by Bass Pro Shops.
"We are going to take them home and rest them until Nashville," Berger said. "I won't leave them down in this heat three weeks in a row and take a chance of having a bad day. We will take them home where it is cold and give them the week off. Then we will see them in Nashville."
Follow Justin Felisko on Twitter @jfelisko