Mauney committed to riding with torn rotator cuff and qualifying for the PBR World Finals
By : Justin Felisko
August 13, 2019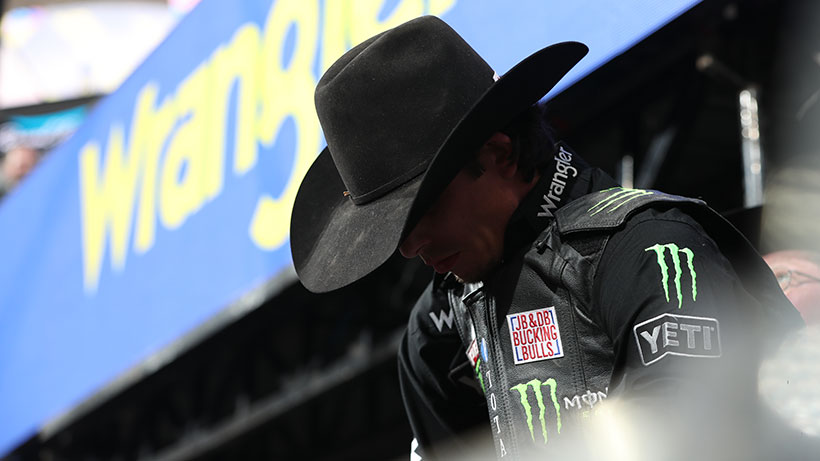 PUEBLO, Colo. – In a year that has been full of nothing but frustration and injuries, two-time World Champion J.B. Mauney is now facing his biggest test of them all.
Mauney told PBR.com that an MRI Monday morning in Dallas revealed that he did indeed tear his rotator cuff in his right shoulder (free arm) during Round 1 of the Express Ranches Classic, presented by Osage Casino, this past weekend.
Dr. Tandy Freeman informed Mauney that the future Ring of Honor inductee would need to undergo surgery for the second time in three years after first needing an extensive operation in July 2017 following a serious wreck at the Calgary Stampede.
However, Mauney said on Monday evening that he is going to delay surgery until after the 2019 PBR World Finals.
"Surgery after the Finals," Mauney said. "I have no idea if I hit it wrong or what. There is no telling. (Dr. Tandy Freeman) showed me the MRI. Part of it was still attached, but most of it was tore completely loose. He told me he can't really say if I can tear it up any worse, but at this point he don't think I can tear it up any worse than it is. There is no point to do the surgery now until after Vegas."
Mauney has a complete tear of one of his rotator cuff tendons and a partial tear of another, Freeman said on Tuesday.
Freeman explained that Mauney's new injury is nowhere near the severity of what occurred at the 2017 Calgary Stampede. In fact, 80% of the surgical work Freeman did to repair Mauney's shoulder then is still intact today.
"In Calgary, he had dislocated his shoulder and had a lot of stuff going on," Freeman said. "All he did (in Tulsa) is he has a complete tear of one of the rotator cuff tendons and a partial tear of another. In terms of comparing it to Calgary, there is no comparison."
Mauney has already received physical therapy exercises to do at home from PBR Sports Medicine Director Rich Blyn, and he said he will not even take a week off to let any inflammation in his shoulder go down.
Blyn said PBR Sports Medicine will treat Mauney on-site and also put him through a dynamic warmup before it is time for the 13-time PBR World Finals qualifier to ride.
The warmup may help Mauney's reaction time and range of motion.
You can expect to see Mauney nodding his head on Saturday night during Round 1 of the WinStar World Casino and Resort Houston Invitational, presented by Bass Pro Shops.
"Yup, I'll be in Houston. Oh yeah," Mauney said. "I'll wait a couple days and then start those exercises at home."
Fans can watch all the action exclusively on RidePass beginning at 7:30 p.m. ET.
Even if Mauney wanted to take some time off, he is at a point where he really can't afford to.
The No. 32-ranked bull rider is only 126.66 points ahead of No. 36 Brady Fielder in the world standings. There are eight regular-season Unleash The Beast events remaining before the World Finals.
Mauney has bucked off a career-high 13 consecutive bulls since recording the 525th ride of his premier series career in Duluth, Georgia. Mauney is tied with Mike Lee for the second-most rides all time.
The 14-year veteran has been hindered by a multitude of injuries to his groins, knees, ankles, wrist, forearm and ribs, and potentially other nondisclosed ones this season.
Regardless, Mauney was able to tie two-time World Champion Justin McBride for most career event wins (32) when he won the Bad Boy Mowdown in Little Rock, Arkansas, this past March.
Mauney is 8-for-29 in 13 Unleash The Beast events. He has missed five events because of injuries.
"It's been shit since the start, but that is the way it goes sometimes," Mauney said. "I have dealt with this before, so you just try to keep rolling forward."
It is not unheard of for a rider to try to ride with a torn rotator cuff.
Fabiano Vieira was able to overcome a torn rotator cuff in 2014, but no injury between two riders is the same.

Vieira wound up putting off surgery for five years, but the longer he waited the more severe the injury became until he ultimately was forced to get surgery this past January.
Two-time World Champion Justin McBride won the 2007 World Championship despite an injury to his free arm shoulder. He too had a rotator cuff tear.
Mauney tried riding with the injury on Sunday and Dixie Explosion bucked him off in 4.64 seconds.
The North Carolina native said the injury did not affect him and he feels he can still get his free arm where it needs to be to successfully ride.
"That is the thing," Mauney said. "Instead of riding him like I am supposed to, I was thinking about moving that shoulder more than anything. That is why I got over in there a little too far, and all that did was screw me when he went back the other way.
"I will pick my head out of my ass."
Mauney plans on also getting on a multitude of practice bulls in the coming weeks, depending on how he feels after Houston.
The 32-year-old knows the pain is not going anywhere, so he might as well get back to learning how to ride through the injury the only way he knows how.
"My whole career, the best I have ever rode was when I was getting on a lot of bulls," Mauney said. "Just because I am beat up and getting a little older, and I stay sore, either way, I am going to be sore. I am going to hurt either way, whether I sit at home and wait for the weekend to go get on or if I get on every day. It is going to hurt. I might as well go be loose and get my timing back whether it hurts or not."
Mauney would not divulge what offseason surgery may mean for his future. He would likely be facing a recovery of four to six months. For now, the focus is on making the 2019 PBR World Finals before thinking about next season.
"I am not going to worry about next year now," Mauney said. "It will depend how long I am going to be out for."
Follow Justin Felisko on Twitter @jfelisko