Teel gets opportunity to conquer Heartbreak Kid (34-0) in front of home state crowd
By : Justin Felisko
August 13, 2019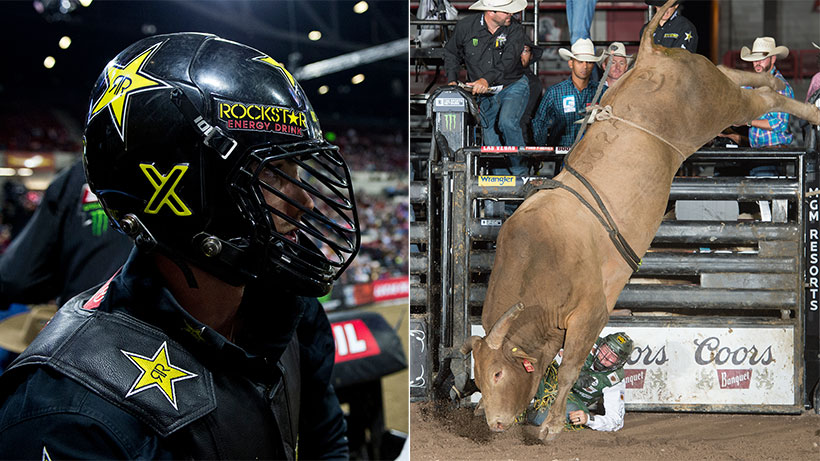 PUEBLO, Colo. – 2012 PRCA champion Cody Teel is happy to be able to get a good night's sleep in his own bed on Friday night before the WinStar World Casino and Resort Houston Invitational, presented by Bass Pro Shops, gets underway on Saturday night.
Teel will need as much energy as possible when he steps foot inside the Fertitta Center in Houston for his home state event.
The No. 5-ranked bull rider in the world standings has drawn the short stick for this coming weekend's 15/15 Bucking Battle, as he will square off against Heartbreak Kid.
Heartbreak Kid heads into Houston with a perfect 34-0 record on the premier series and has bucked off 54 consecutive riders at all levels of competition. Thirty-four consecutive buckoffs is tied for the fourth-longest streak of all time, just eight behind Bushwacker's all-time record of 42.
"I have been wanting to get on him," Teel said. "I just figured it would come eventually. I have been thinking about him. Any guy there, the competitive nature comes out in them. You want to be that first guy to ride him on tour and take that notch out of him."
It would be even more special for Teel to do it in front of his family and friends.
Teel expects a large turnout on Saturday and Sunday seeing as the Kountze, Texas, native lives just two hours away.
"That would be pretty cool in Houston, for sure," Teel said. "Anywhere, but it would be even more special being close to home. He is one of the most athletic bulls. He can do so many different things and buck just as hard doing it. Part of the game plan, I don't know, keep your shoulders square with his. That is all I can come up with and that is all you can do.
"This is what I drew, so I accept the challenge and I will try to go knock him out."
Heartbreak Kid will be looking to bounce back after a re-ride flag was thrown last weekend when he fell over leaving the bucking chute with Chase Outlaw during the 15/15 Bucking Battle at the Express Ranches Classic, presented by Osage Casino, in Tulsa, Oklahoma.
H.D. Page said his bull was doing OK after taking the tumble inside the BOK Center.
Fans can watch this weekend's 15/15 Bucking Battle exclusively on CBS national television Sunday at 3 p.m. ET.
15/15 Bucking Battle Matchups
Ezekiel Mitchell vs. Mason's Missouri Golden (14-1, UTB)*
Cody Jesus vs. Frequent Flyer (31-3, UTB)
Mason Taylor vs. Talking Smack (24-4, UTB)
Daylon Swearingen vs. Mr. Majestic (13-3, UTB)*
Claudio Montanha Jr. vs. Wild Goose (22-5, UTB)
Matt Triplett vs. Speed Demon (34-5, UTB)*
Lucas Divino vs. Cool Customer (14-3, UTB)*
Derek Kolbaba vs. Struttin Stuff (21-2, UTB)
Luciano de Castro vs. Fearless (19-1, UTB)*
Cooper Davis vs. Canadian Mist (22-4, UTB)*
Cody Teel vs. Heartbreak Kid (34-0, UTB)
Joao Ricardo Vieira vs. Total Feeds Bushwhacked (16-3, UTB)
Jose Vitor Leme vs. Red Bones (4-0, UTB)
Chase Outlaw vs. Hostage (8-1, UTB)
Jess Lockwood vs. Wicked Dreams (7-2, UTB)
Heartbreak Kid has bucked off five the Top 10 riders in the world standings already this season – No. 1 Jess Lockwood, No. 2 Chase Outlaw, No. 3 Jose Vitor Leme, No. 6 Cooper Davis and No. 7 Luciano de Castro.
Teel trails Lockwood by 1,959.17 points in the world standings.
Lockwood will look to win a third consecutive 15/15 Bucking Battle when he takes on Wicked Dreams (7-2, UTB) on Saturday night.
Historically, any rider within the 2,000-point mark of the world lead has a legitimate chance of winning the world title when the PBR World Finals begins.
Teel is well aware that the time is now to make a move up the standings if he wants to increase his chances.
"Absolutely," he said. "If you don't get it going, you are going to get left in the dust. The way it is, you have to keep pace. The way this race is, you better be consistently picking something up every weekend.
"The key is keeping that in mind and being able to take that pressure, if you want to call it that, and let it work for you. You have to find that balance mentally and feed off it and don't let it work against you. That is the whole key."
Not only is the 15/15 Bucking Battle and Houston a good opportunity, but the Jack Daniel's Music City Knockout, presented by Cooper Tires, in Nashville, Tennessee, is another monster one. Teel won the Music City Knockout last year to push himself into the world title race, ultimately finishing No. 3 in the 2018 world standings.
Teel understands he needs to make up ground sooner rather than later.
"There is definitely urgency to get things rolling with eight events left," Teel said. "You want to be in a good spot going into the Finals. There is no doubt about that. That is the mission. The goal at the end of the year is to be a World Champion. You have to keep pace and keep it rolling to give yourself a legitimate shot when you roll into Vegas."
NO. 3 FEARLESS HIGHLIGHTS BULL POWER AND REMATCHES
Fearless is the highest-ranking World Champion Bull contender set to buck in Houston. The No. 3 bull has a World Champion Bull average of 45.41. No. 1 Smooth Wreck (45.66) and No. 2 Smooth Operator (45.63) are not bucking this weekend.
The 5-year-old is paired up with Luciano de Castro for the fourth time in their respective careers. Most recently, Fearless bucked Castro off in 3.9 seconds at Iron Cowboy in Los Angeles in February. Castro nearly rode Fearless (7.97 seconds) a month earlier in Glendale, Arizona.
None of the riders with a rematch in this weekend's 15/15 Bucking Battle have successfully covered their opponent.
Ezekiel Mitchell has one of those rematches. He previously was bucked off by Mason's Missouri Golden in 3.89 seconds. Mitchell is in the 15/15 Bucking Battle for No. 9 Ryan Dirteater (fractured ribs, collapsed lung and lacerated liver).
Follow Justin Felisko on Twitter @jfelisko