Houston draw: Davis ready to return and ride in front of family and friends
By : Justin Felisko
August 14, 2019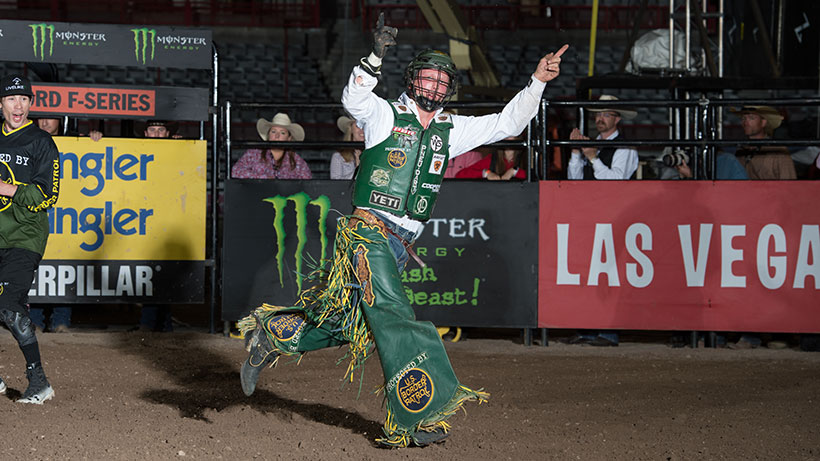 PUEBLO, Colo. – Cooper Davis will be a well-traveled man by the time he returns home for the WinStar World Casino and Resort Houston Invitational, presented by Bass Pro Shops, on Saturday and Sunday.
Davis left Tulsa, Oklahoma, last weekend after missing the final day of competition with a concussion and flew to Alaska to spend a few days hunting caribou with his friend Lane Wood.
The 2016 World Champion confirmed on Tuesday that he expects to be ready to ride in front of his friends and family in Houston at the Fertitta Center after Catfish John gave him a concussion in Tulsa.
"I am excited," Davis said. "It is my first time to go to the PBR there, and it is close to home. I know a bunch of people going."
Davis will have to go through the PBR's concussion protocol Saturday afternoon before being officially cleared to ride.
The No. 6 bull rider in the world standings has drawn Jay Slinger (0-0, UTB) for Round 1.
Fans can watch Round 1 exclusively on RidePass beginning at 7:30 p.m. ET.
RELATED: Check out all the matchups for Round 1
Davis is a product of Jasper High School and grew up two and a half hours northeast of Houston.
The 25-year-old was not riding in the PBR when the premier series last stopped in Houston in 2012, but Davis has competed at the Houston Livestock Show and Rodeo before.
"Houston is kind of retro and a little bit different crowd than you are used to," Davis said. "It is a good mixture of everything you can possibly imagine. You have people coming from outside of the city limits and the farm life. Then you have some guys that are in the city limits that have never seen anything like this before.
"It is a pretty cool and good crowd."
Davis could certainly use an event win this weekend in his home state if he hopes to work his way back into the 2019 world title race.
The fifth-year pro trails world leader Jess Lockwood by 2,155 points.
Historically, any rider within the 2,000-point mark of the world lead has a legitimate chance of winning the world title when the PBR World Finals begins.
The Jack Daniel's Music City Knockout, presented by Cooper Tires, is also two weeks away. Davis won the Nashville PBR Major event three years ago to spearhead his march to the 2016 World Championship.
The conclusion of the Music City Knockout is airing LIVE on CBS national television at 4 p.m. ET, making it the first time PBR has been live on broadcast television since Championship Sunday of the 2004 World Finals on NBC.
"This is it," Davis said. "It is time to go. It is time to win. Either you put your name in the hat or you take it out. You have to win."
The Top 3 riders in the world standings – Lockwood, Chase Outlaw and Jose Vitor Leme are separated by less than 164 points.
In fact, Lockwood's 20-point lead in the standings on Outlaw is the smallest margin between the Top 2 riders in the world at the start of a second half event since Davis held a 19.67-point lead on Kaique Pacheco on September 9, 2016.
Lockwood takes on Fist City (11-3, UTB) in Round 1, while Outlaw has drawn Vanished (0-0, UTB).
Fist City vs. Lockwood is one of six rematches scheduled for Saturday night.
Lockwood bucked off Fist City in 2.68 seconds this summer in Deadwood, South Dakota, after previously riding him for 86.75 points last year at the PBR World Finals. Fist City also bucked Lockwood off in Binford, North Dakota, in 2017 (4.03 seconds).
ROUND 1 REMATCHES
Lockwood vs. Fist City (1-3)
Eduardo Aparecido vs. Shark Bait (5.45 seconds in Raleigh, North Carolina, in 2017)
Jose Vitor Leme vs. Taco Cat (88.25 points at the Ty Murray Invitational)
Keyshawn Whitehorse vs. Sniper (3.06 seconds at the Ty Murray Invitational)
Lucas Divino vs. Crazy Times (2.11 seconds in Sacramento, California)
Scottie Knapp vs. Bad Decisions (78.25 points in Tulsa, Oklahoma)
There are six riders inside the Top 35 not competing in Houston – No. 9 Ryan Dirteater (broken ribs, collapsed lung, lacerated liver), No. 16 Aaron Kleier (suspended/personal choice), No. 22 Cannon Cravens (broken leg), No. 29 Dakota Buttar (hip/shoulder), No. 31 Colten Jesse (shoulder surgery) and No. 33 Jared Parsonage (personal choice).
Replacing them in the draw are No. 37 Dalton Kasel (-51.25 behind No. 35 Danilo Carlos Sobrinho), No. 38 Kurt Shephard (-62.5), No. 40 Michael Lane (-92.5 points), No. 95 Nathan Burtenshaw (injury exemption/-440), No. 111 Dener Barbosa (injury exemption/-480) and No. 284 Fabiano Vieira (injury exemption/-585).
No. 241 Jorge Valdiviezo is making his Unleash The Beast season debut as a Hispanic invite. The 2019 member of Team Mexico is 2-for-6 this year at all levels of competition in limited action.
The 30-year-old last competed on the premier series in 2018 in Billings, Montana. Valdiviezo has bucked off nine consecutive bulls on the UTB and is a career 29.17% rider.
Valdiviezo takes on Birthday Cake (3-1, UTB) in Round 1.
Follow Justin Felisko on Twitter @jfelisko