Jesus steps up to ride SweetPro's Bruiser with Team USA Wolves coach Nuce in attendance
By : Justin Felisko
August 14, 2019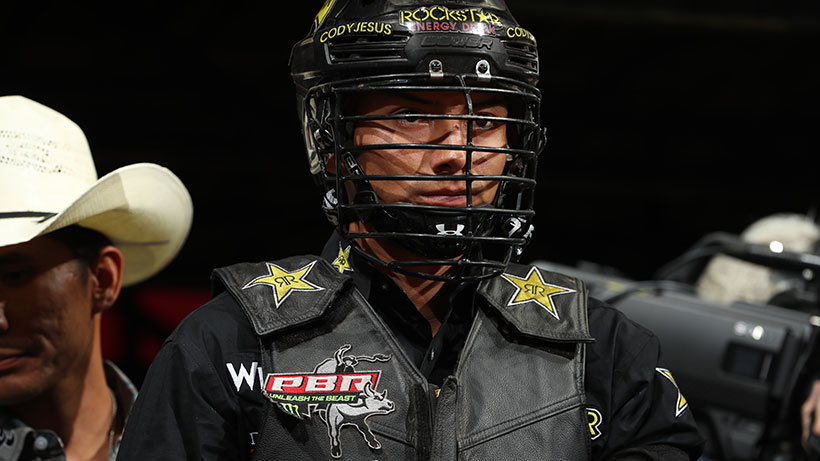 PUEBLO, Colo. – Cody Jesus had a box of VHS tapes growing up in Window Rock, Arizona, which contained past rounds of various National Finals Rodeos.
The aspiring bull rider would often push one of those tapes into a now ancient VCR player and watch the grainy footage of bull riding legends such as Ty Murray, Jim Sharp and Team USA Wolves coach Ted Nuce.
However, it was Nuce doing the watching and Jesus making the 8 seconds this past weekend in Tulsa, Oklahoma, at the Express Ranches Classic, presented by Osage Casino.
Jesus put up quite the statement in front of one of his childhood heroes when he rode three-time World Champion SweetPro's Bruiser for 90.25 points during the 15/15 Bucking Battle.
"That is as good as it gets," Nuce said. "It doesn't get much better than that."
Jesus said, "That was the first person I looked up to when I looked at the chutes. Seeing him whooping and hollering for me was good stuff."
Nuce was so fired up cheering on the Native American riders in Tulsa, such as Jesus, Stetson Lawrence, Keyshawn Whitehorse, Ryan Dirteater and Lane Granger, that he eventually lost his voice by the end of the two-day event at the BOK Center.
The first time Global Cup coach was in Tulsa to scout for his team and meet with some of the riders he may select for the 2020 WinStar World Casino and Resort Global Cup USA, presented by Monster Energy. Global Cup coaches have full autonomy in selecting their seven-man rosters in 2020.
RELATED: Global Cup allowing Jesus to live out childhood Olympic dream
"I can tell already (from) the effort that these Native Americans cowboys put out tonight that we will do just fine," Nuce said hoarsely.
Jesus is the second-highest ranked Native American rider in the world standings at No. 15, and Nuce was impressed by Jesus' mental fortitude in Tulsa.
Jesus has clearly demonstrated his physical talents, with his ride aboard Bruiser ranking as the second best of his career, but it is his mental strength and focus that really stands out to Nuce.
Jesus bounced back from a 4.65-second buckoff against Excessive Force in Round 1 to ride Bruiser and then Scrappie for 86.5 points in Round 2.
"My mental game of riding bulls was probably where I was strongest," Nuce said. "I really understood the mental part of this game really well. I studied it. I perfected it in my mind.
"I was telling him, 'You need to have anchors in your mind to a near-perfect effortless bull ride so that whenever you have a negative thought you go to that ride. You visualize and think about that ride. You are replacing negative thoughts with positive thoughts.'
"When you buck off, that is when you really need to kick it into gear. This is a mind game, and people don't understand it. Well yeah, you can be pissed off out there (about bucking off). Big deal. But you need to get over it right now, because that is not going to help you be the champion. That is how it needs to be."
Bruiser had bucked off all seven of his previous challengers on the Unleash The Beast this season before Jesus made the 8 seconds.
RELATED: Nuce recalls Olympic Gold medal
Jesus and Nuce are not complete strangers.
The two first met at a small bull riding in Red Rock Springs, Arizona, two years ago.
Jesus made a good first impression there, too.
"It was cool because I ended up winning that bull riding in front of a guy I looked up to," Jesus said.
Beyond making a good impression on Nuce in Tulsa for his Global Cup aspirations, Jesus also needed a successful weekend more than ever.
Jesus' ride on Bruiser was only his second qualified ride at all levels of competition since tearing his left groin on March 30 in Tacoma, Washington, attempting to ride Short Pop.
The 21-year-old admitted the groin injury, which he aggravated at the Ty Murray Invitational in May, has been extremely frustrating. However, Jesus knew he had to be smart and cautious with the injury or else he would be in jeopardy of missing time during the stretch run to the 2019 PBR World Finals (Nov. 6-10 in Las Vegas).
"I came to the decision my first weekend that I was off that I would be smart and be rested because I know God has a plan for me," Jesus said. "First bull back wasn't the way I wanted it. Once I found out I had SweetPro's Bruiser this week, I got on a bunch of practice bulls."
The 20 practice bulls paid off splendidly for Jesus, who leads PBR rookies with three 90-point rides on the Unleash The Beast.
Jesus is ranked fourth in the tightly contested Rookie of the Year race, sitting only 226.67 points behind ROY leader Lucas Divino.
Jesus will look to build off his Tulsa success this weekend at the WinStar World Casino and Resort Houston Invitational, presented by Bass Pro Shops, against Home Wrecker (0-0, UTB) in Round 1 (7:30 p.m. on RidePass) and Frequent Flyer (31-3, UTB) in the 15/15 Bucking Battle (Sunday at 3 p.m. ET on CBS)
"I am just having fun when I can," Jesus concluded. "I was worried about the Rookie of the Year race and that was all I was worried about. I got pulled out and dropped to I don't know where. Since then, I said I am going to ride bulls because I love it."
Follow Justin Felisko on Twitter @jfelisko