USA Eagles coach McBride proud of Outlaw's growth since his first win in Houston
By : Justin Felisko
August 15, 2019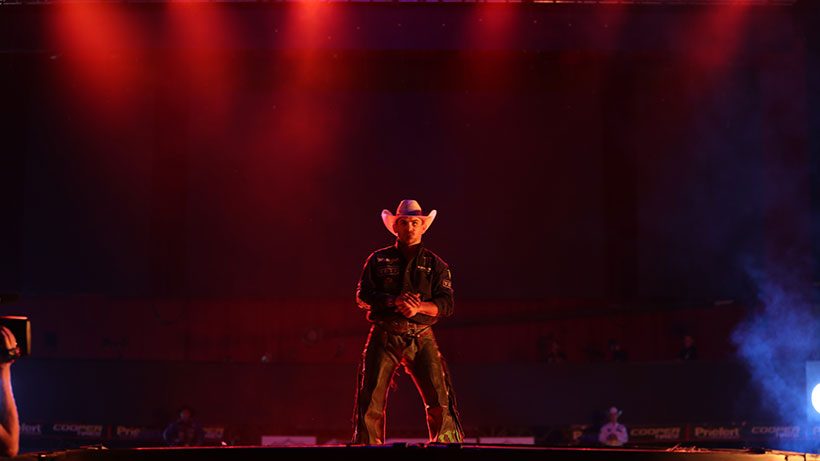 PUEBLO, Colo. – Chase Outlaw held his head high as he walked through the lobby of the Hyatt Regency hotel with his family by his side last weekend in Tulsa, Oklahoma.
Outlaw was back on top of the world standings following an emotional victory at Last Cowboy Standing at Cheyenne Frontier Days on the exact one-year anniversary of his severe wreck at the 2018 PBR Touring Pro Division event in Cheyenne.
The 27-year-old has become one of the PBR's most popular riders in recent years, but his 2019 surge to world title contention has elevated him to a status like never before.
It is rare these days for Outlaw to make his way through a hotel lobby or an arena during a PBR event without someone wanting to say hello and offer a congratulatory handshake.
Outlaw politely accepts the praise and combines a hearty handshake with a "Thank you, sir" or "Thank you, ma'am."
The Hamburg, Arkansas, native has also become one of the most requested riders for interviews with CBS Sports, RidePass and other national and local media outlets.
"If you want to be the best, you have to expect people are going to want to talk to and you are going to be wanted more," Outlaw said. "That is just part of it. Without the fans there, without them there buying the tickets and coming to fill the seats, we wouldn't have a show.
"We can't ride bulls for ourselves and expect the boys on the back of the bucking chutes to be the only ones to watch. We wouldn't have the added money that we do without them people buying tickets and coming to watch us ride bulls. Those are things you have to make time for, things you just have to do when you are a champion."
Outlaw heads into this weekend's WinStar World Casino & Resort Houston Invitational, presented by Bass Pro Shops, as the No. 2 rider in the world standings.
He trails world leader Jess Lockwood by a mere 20 points.
Outlaw is set to take on Vanished (0-0, UTB) in Round 1 at the Fertitta Center (RidePass at 7:30 p.m. ET) Saturday night and then Hostage (8-1, UTB) in the 15/15 Bucking Battle (CBS national television, Sunday at 3 p.m. ET).
It has been seven years since Outlaw won his first premier series event in Houston on February 25, 2012, by riding Hard Times (84.75 points) and Too Sexy (84 points).
"I rode Too Sexy in the short round, and I can't remember the bull I rode in the long round," Outlaw said. "I was 19, and we had a good time that night."
It would take Outlaw another two and a half years before he was victorious again, this time in Nashville, Tennessee, on September 6, 2014.
RELATED: Mike White watches Outlaw hit it big in Nashville
The PBR returns to Nashville in two weeks with the Jack Daniel's Music City Knockout, presented by Cooper Tires. The conclusion of the PBR Major is airing LIVE on CBS national television, making it the first time PBR has been live on broadcast television since Championship Sunday of the 2004 World Finals.
Outlaw admits that in his early years he was complacent as a bull rider.
He had finally made it to the PBR, and that was good enough for a naive Outlaw.
"I was just thinking, 'Hell, I am at the big show,'" Outlaw recalled. "It was hard to settle down. I wasn't necessarily thinking of a World Championship at that young age. I was just glad as I was there."
The seven-time PBR World Finals qualifier has since matured and evolved into one of the faces of the PBR as he pursues his first World Championship.
Maturity is one of the biggest observations two-time World Champion and Team USA Eagles coach Justin McBride talks about when he looks at all that Outlaw has achieved this season.
Yes, there are the three event victories, including emotionally-charged wins at the Mason Lowe Memorial in St. Louis and his PBR Major win in Cheyenne. But more than the event wins, McBride is tremendously proud of the man Outlaw has become over the years.
RELATED: Abbey Lowe: I wanted Chase to bring it home
McBride was sitting in the lobby at the Hyatt Regency waiting for his room to be ready when he saw Outlaw with his family.
The CBS Sports analyst smiles when he thinks about how much Outlaw has grown up.
McBride still remembers the 18-year-old "hellion" he first met in Kearney, Nebraska, on December 17, 2011.
Outlaw went 2-for-2, including an 87.5-point ride on a bull named Creeper, for the victory.
"I am really just pretty proud of him," McBride said. "I have known him since he first came around. I saw him at a Touring Pro at Kearney, Nebraska, when he was just old enough to start coming to them. To see where he is at now, he has come a long ways. Not just as a bull rider, but as a young man. He has really come a long way. I was just watching him a little bit ago with his kids and his wife. It is pretty cool for me to see.
"He went from being this little, wild-ass hellion that could ride pretty good. A good, little, tough, crazy-ass bull rider to being the guy. He is the guy now. That is quite the transformation."
Outlaw has already accomplished so much that a gold buckle would only add to his popularity, says McBride.
"Even if he doesn't win the world title this year, he has still pretty much transformed himself into the face of the PBR right now," McBride said.
Complacency is not in Outlaw's makeup anymore.
Outlaw began the 2019 season with only three career event wins on the premier series. He already has three this season alone, with eight regular-season events and the 2019 PBR World Finals (Nov. 6-10 in Las Vegas) remaining.
The eight-year veteran has already set new career-highs for rides on the premier series (32) and is riding at a career-best clip of 50.79%, which is 12% higher than his career average of 38.7%.
In fact, Outlaw has posted at least one qualified ride in every UTB event this season except for the Bad Boy Mowdown in Little Rock, Arkansas, and he has failed to earn world points in only three of 18 events.
Close friend Matt Triplett has seen Outlaw's focus enhanced.
"I would say he has always had remarkable confidence, but now it is out of the roof," Triplett said. "He is more confident in himself than ever. When you are like that, nothing can throw you off."
A World Championship has been top of mind for Outlaw in the past year, and he is closer than ever to becoming the 19th rider to leave Las Vegas with a PBR World Champion gold buckle.
Outlaw is not going to slow down until that $1 million champion bonus is his.
"That is definitely the end goal now," Outlaw concluded. "I was just always there to be there and just to show up and have a good time, instead of being there and making it happen."
Follow Justin Felisko on Twitter @jfelisko