An unexpected call: Kylie Shivers honored to receive Sharon Shoulders Award
By : Darci Miller
August 15, 2019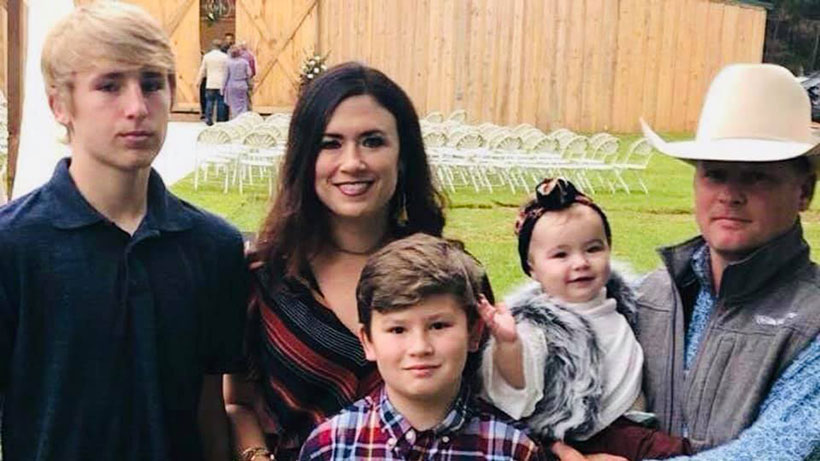 PUEBLO, Colo. – Kylie Shivers and her husband, two-time World Champion and Ring of Honor inductee Chris Shivers, were at a birthday party when her cell phone began to ring.
Kylie looked down to see it was longtime friend LeAnn Hart calling.
Hart had great news for Kylie.
Hart was calling to tell Shivers that she would be the 2019 recipient of the Sharon Shoulders Award, which recognizes the women of professional bull riding whose work, partnership and faith have helped their husbands pursue their dreams.

Shivers was immediately at a loss for words.
"I was speechless," she said. "I actually feel very undeserving. I'm very excited. I'm very happy. It's surreal, and I'm still having a hard time finding the words for it.
"I see myself as a wife and a mom, and that's really it. So to be receiving this award, I just feel kind of small up against all the other ladies that have gotten it before me. But I'm very honored. I'm beyond honored."
When she re-entered the party to tell Chris the news, the emotions finally hit her.
"I was standing there crying at this birthday party!" Kylie recalled. "I teared up and I was like, 'I cannot believe they chose me! I don't understand why they picked me!'"
It's perhaps this humility – never seeing herself as the hero – that was precisely why she was chosen.
Kylie met Chris in 1999. She was 16. He was 19. The two had grown up within 20 miles of each other, but they didn't cross paths until Chris' best friend was dating Kylie's cousin and they both ended up at her cousin's house. Kylie knew who he was, having grown up in a rodeo family herself – her dad and brother both team roped, and her dad rode bulls until she was born.
Her dad also regularly tuned in when PBR events were on TV, and incidentally had quite the connection to his daughter's future husband.
"When Chris started riding, my daddy rode bulls back before I was born, and his dad borrowed my dad's riding equipment," Kylie said. "The chaps, I think it was. So we had a connection. We just never met until years later."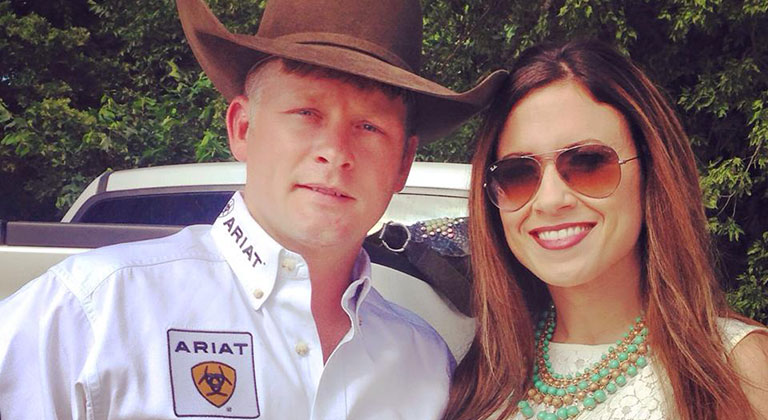 As they say, the rest is history, and the two got married on November 10, 2001. Chris had won his first world title the year prior, and Kylie attended her first World Finals with him the year before that, in 1999. Not only was it her first time in Las Vegas – and her first time on an airplane – but it was the first time she realized what being a professional bull rider involved.
"I knew he was famous, and I knew he'd had a name for himself, but I just didn't really get everything that went along with it until I went to the Finals that year and I got to really see it," she said. "It was pretty cool, but it was an eye-opener, for sure."
Chris won his next world title in 2003.
Kylie recalls that as her favorite memory from his career for one specific reason: their first son, Brand, had just been born that year. Chris missed his son's birth to be at an event – Kylie went into labor right after he left and told him to stay where he was and ride.
"I told him, 'There's no point in you coming home. You're already there. Stay,'" she said. "And he did, and he did well that weekend, and then he won the world that year. So I think that would probably be the most memorable because it was so much excitement and blessings during that year."
Chris continued riding bulls until retiring in 2012 after 412 qualified rides on the premier series and qualifying for 14 PBR World Finals. During that time, Kylie was a stay-at-home mom to Brand (now 16 years old) and their second son, Blayne (12). She took care of the kids, the home and the animals, and tried to travel with Chris as much as possible.
"It's a pretty busy lifestyle, and it seemed like everything would go wrong when he was gone," Kylie said with a laugh. "I wouldn't trade it for anything, and I look back on it now and I just think, 'Wow.'
"It's surreal, because now that he's been retired, I kind of go back and I reflect over the years when he was gone a lot, and sometimes I think, 'How did we get through that?'"
After Chris retired, Kylie became a teacher at Temple Christian Academy. But after having daughter Bailey Jo a year and a half ago, she's put family first and is back to full-time mom duty.
"That's just my number one priority right now – being a mom," she said. "As long as, financially, we're able to do that, that's what I'm going to do."
It's a love for their families and strong faith that bind the women that have received the Sharon Shoulders Award since its inception in 2010.
LeAnn Hart (wife of J.W. Hart) was the recipient in 2016, and Shivers cites the likes of Jill McBride and Leanne Lambert as others she admires. The award honors women who provide an unwavering support system to their husbands, inspire them by example, motivate and challenge them to achieve their goals and keep them grounded in reality.
Shivers and the rest of this year's honorees will receive their awards at the 2019 PBR Heroes & Legends Celebration on Nov. 5 in Las Vegas at South Point Casino & Hotel. The 2019 PBR World Finals will take place November 6-10 at T-Mobile Arena.
RELATED: Guilherme Marchi to be inducted into Ring of Honor at 2019 PBR Heroes & Legends Celebration
Twenty years after her first trip to the World Finals as a wide-eyed teenager taking her first trip on an airplane, Shivers will be back in Vegas to be honored as one of the great PBR wives.
It's been 20 years of hard work and sacrifices, but it's all those years of struggling that had Shivers crying at a birthday party after finding out she'd be receiving the award.
"I'm actually tearing up right now talking about it," she said. "From '99 until he retired in 2012, that was a lot of years, just him being gone and living that lifestyle. And just to reflect back over the years and all the stuff that we went through, and our marriage went through, and now I'm getting this award, and it just… it makes it all worth it."