Mitchell will ride in front of friends and family at home in Houston
By : Justin Felisko
August 17, 2019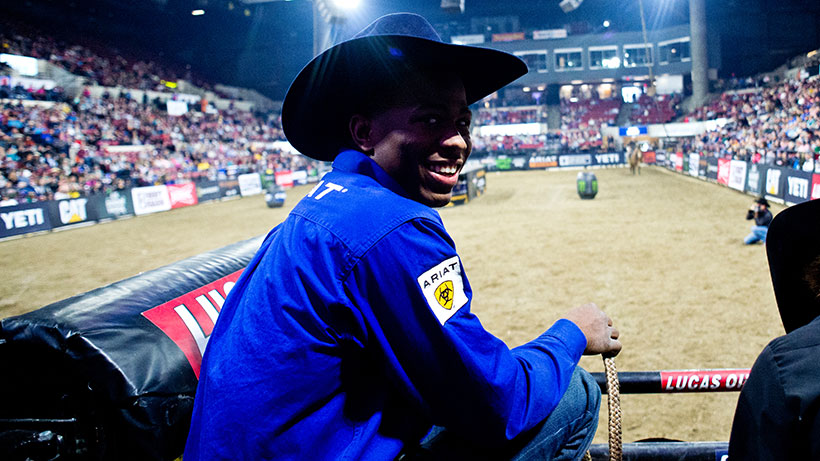 HOUSTON – Ezekiel Mitchell still remembers being 14 years old walking through a Walmart when he saw the posters for the 2012 WinStar World Casino Invitational at Houston's Reliant Stadium.
The aspiring bull rider was so excited.
"I was like, 'Mom, I want to go watch it! Let's go!'" Mitchell said. "But we didn't have the money to do it. I remember I couldn't even watch it on TV because we didn't have the channel either."
It was the last time the PBR held an event in Houston, and every year the teenager would ask himself, "Why don't they bring it back to Houston?"
Seven years later, and the PBR is indeed back in town.
This time, though, Mitchell does not have to ask his mom to take him to the event.
Instead, the Rookie of the Year contender has invited her and the rest of his family to come watch him compete inside the Fertitta Center on the University of Houston campus on Saturday and Sunday night for the WinStar World Casino and Resort Houston Invitational, presented by Bass Pro Shops.
"This is going to be the big kahuna," Mitchell said. "I am super excited."
The Fertitta Center is hosting an Unleash The Beast event for the first time this weekend, and the small and intimate arena has the potential to create a loud and raucous environment.
That will especially be the case any time a local cowboy or Texas native climbs into the bucking chutes.
There are five additional Texas natives along with Mitchell competing in Houston: 2016 World Champion Cooper Davis, 2012 PRCA champion Cody Teel, Taylor Toves, Dalton Kasel and Mason Taylor.
Mitchell grew up 140 or so miles outside of Houston in Baytown, and the No. 17-ranked bull rider in the world believes he will have more than 20 friends and family in attendance when the event begins on Saturday night (RidePass at 7:30 p.m. ET).
Mitchell takes on I'm Legit Too (2-3, UTB) in Round 1 and Mason's Missouri Golden (14-1, UTB) in the 15/15 Bucking Battle (Sunday at 3 p.m. ET on CBS).
The Rookie of the Year contender, though, does not expect to feel any more or any less pressure on himself just because he will have his family and the local crowd in his corner.
They will certainly have him motivated to win, but ultimately any pressure he feels as a pro athlete comes from looking at the man in the mirror.
"Most of the time, pressure for me doesn't come from people around me, but what I put on myself," Mitchell said. "I don't think it will bother me.
"I just want to win. That is going to be my biggest thing. Worrying about actually riding my bull and not an event. Taking it bull for bull. I am starting to get used to it."
Mitchell has been learning to adjust to the mental fatigue that comes with the rollercoaster of competing on the premier series for the first time.
Rookies face an adjustment to a higher caliber of bull that many have never faced on a consistent basis before, and many will go through buckoff streaks that were foreign during their youth bull riding days.
Mitchell bucked off eight bulls to begin his career in January, and he then failed to reach the 8-second mark nine consecutive times before making the whistle last weekend in Tulsa, Oklahoma.
In June, Mitchell received an unexpected call from 1982 PRCA champion Charlie Sampson when he was working in his horse barn.
Sampson caught Mitchell off-guard seeing as he called from a different number than what Mitchell had saved in his phone.
The 2004 Ring of Honor inductee was calling to politely "chew him out," Mitchell said.
"He said, 'Well Zeke, the way I look at it is you ride good. You ride better than a lot of guys on tour,'" Mitchell recounted. "He said, 'You have a lot of ability and a lot of athleticism, but the one thing I don't see in you that I see in all of those other guys is the fact that you don't believe in yourself. The whole world believes in you. They have seen you now. They believe in you, but you don't believe in yourself.'"
Mitchell agreed, and he admitted it was something he needed to hear.
The 22-year-old's confidence had been shaken during the last few events of the first half.
Mitchell still did not have that long-desired first UTB event win, and he was seeing more and more rookie riders find success as he kept hitting the cold, hard dirt.
"At first it was getting used to everything, settling in," Mitchell said of his struggles. "As far as it goes, the hardest thing for me in learning this sport is the fact that you have to learn you can't win like you do at the lower levels and the amateur level. There was a point in time where I would go to an amateur rodeo every weekend and it would be me or my buddy J.T. Moore or Ouncie (Mitchell) too, us three. Everywhere we would go we could guarantee we would be winning.
"Going from winning a lot, then having that success really fast on the Velocity Tour (in November) to throwing me right onto tour. Going from winning every weekend and learning how to lose, really. It is hard, honestly. It is still hard, and I am still trying to figure it out because I am a very confident person, but your confidence can only carry you so far whenever the proof isn't in the pudding. That is pretty much what I am looking to do now."
Mitchell got a nice confidence-booster last weekend in Tulsa with his 85-point ride on Sin City after winning the Brighton, Colorado, Touring Pro Division event a week earlier.
He also has been getting on more practice bulls during the week, including this week, thanks to EVP Bucking Bulls.
That was one of the pieces of advice Sampson told Mitchell this summer – "Tone it down and take it back to something you can ride for 10 to 15 seconds and ride with ease. Remember how much fun it is to actually win and conquer."
Mitchell believes he is getting better at balancing that burning desire to win without putting too much pressure on himself.
A perfect balance may just lead to his first 15/15 Bucking Battle victory or event win this weekend.
"I was dead set on winning so badly that I had screwed myself over," Mitchell said. "My whole thing is taking it one bull at a time, jump for jump, keeping the good Lord first and everything will fall into place."
Follow Justin Felisko on Twitter @jfelisko