Mauney takes sole possession of second-most qualified rides all time (526) by riding through torn rotator cuff
By : Justin Felisko
August 18, 2019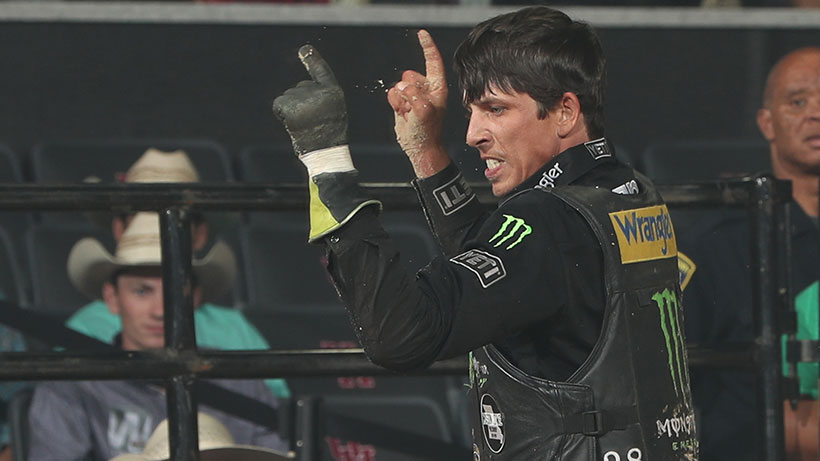 HOUSTON – The sweat began to trickle down two-time World Champion J.B. Mauney's neck shortly after 6 p.m. inside the Fertitta Center.
Mauney was participating in a dynamic warm-up with Director of PBR Sports Medicine Rich Blyn to help prepare for Round 1 of the WinStar World Casino & Resort Houston Invitational, presented by Bass Pro Shops.
The 32-year-old sprinted up and down the back hallways of the arena four times.
He jogged in place and did hamstring kicks.
The 13-time PBR World Finals qualifier did a series of squats and jump squats.
He lunged forward. He lunged backwards. He lunged sideways.
The North Carolina cowboy even did pushups against the concrete wall.
1999 PBR Ring of Honor inductee Jerome Robinson walked by and said with a smile, "That is the most I've ever seen him workout like that."
The warm-up took roughly 12 to 15 minutes with the goal of having Mauney's muscles firing and activated well before he crawled into the bucking chutes.
Mauney was committed to making the 8-second mark on Saturday night, and he was going to do whatever necessary to make sure he took care of business.
The future Ring of Honor inductee was less motivated by gaining sole possession of the second-most qualified rides all time than he was by the desire to prove to everyone that he is far from washed up.
He has seen the social media comments, and he has heard the chatter.
Mauney was not going to use a torn rotator cuff as an excuse for his recent slump, nor was he looking for any sympathy.
Surgery can wait until after the 2019 PBR World Finals, Mauney says.
In his opinion, a 14th consecutive World Finals is certainly doable regardless of the completely torn tendon, and the second partially torn one, in his right shoulder (free arm).
If anything, the injury he sustained last weekend in Tulsa, Oklahoma, may have just been the driving factor in getting him mentally focused on snapping his career-worst streak of 13 consecutive buckoffs Saturday night in Houston.
"It's a wakeup call," Mauney said. "I've watched guys ride longer than they probably should have, and I don't want to be one of those guys, but in my mind I can still ride these bulls.
"And I know I can ride them, and when somebody says it's time to hang it up, that just fires me up and makes me focus more. Pretty much got my head out of my ass."
Mauney finally picked up career ride No. 526 on the PBR's premier series by beginning the Houston Invitational with an 87.5-point ride on Boogie Bomb.
RELATED: Relive the Top 11 rides of J.B. Mauney's storied career
"That's what it's all about," Mauney said. "I put on Twitter the other day, I didn't get where I'm at playing it smart. If I'd have sat out every time I should've sat out, I'd have never been a two-time World Champion. If you're going to be a bull rider for a living, you'd better be a damn cowboy because you're going to have to ride beat-up, hurt, when you probably shouldn't, because these other guys ain't going to let off the gas pedal.
"And I went and been a cowboy again today."
The ride moved Mauney past 2004 World Champion Mike Lee for sole possession of the second-most qualified rides all-time after he spent five months tied with Lee for No. 2 at 525.
It is just the latest record accomplished by Mauney. Earlier this season, he tied Justin McBride for the most premier series event wins (32) and second-most 90-point rides all time (74).
"The way I look at it is, them records and things, they'll be beaten," Mauney said. "Every one of them. Just like McBride, he beat it, and I'm tied with him (for most event wins on the premier series). Records are going to be beaten. No matter what you do, there's always going to be someone that beats what you did."
Mauney takes most pride in the quality of his rides and his approach to the sport.
The 14-year veteran averages 86.86 points per ride. All-time rides leader Guilherme Marchi (635) averaged 85.38 points per ride, and Lee averaged 85.63 points.
Fourteen of Mauney's qualified rides have come aboard World Champion Bulls since 2007.
RELATED: Looking back at every World Champion Bull since 2007 that Mauney has ridden
"The way I look at it is, whether or not I rode so many bulls or not, or beat this guy on event wins, I did my job, and when I did it, I did it on rank bulls," Mauney said. "I didn't pick the easy ones. I went at it like a cowboy, and that's what matters more to me than anything else. The records and things like that, it's pretty cool to have, but that's not what matters most to me. What matters most to me is the gold buckle hanging around my waist and the fact that I can tell myself every day when I wake up, 'I went about it like a cowboy.' I didn't back down, I picked the rankest bulls every time they gave me the opportunity, and that's what I tried to do."
Mauney's wife, Samantha, and son, Jagger Briggs, witnessed J.B.'s record-setting night in Houston.
Samantha had no doubts that her husband would overcome the torn rotator cuff Saturday.
During J.B.'s last push for the 2015 World Championship, Samantha would sometimes have to help the legendary bull rider out of bed because he was in so much pain.
There have been times throughout J.B.'s career, especially in the last two seasons, where Samantha knew J.B. was struggling and could barely walk.
"When was it going to turn around?" Samantha said she often thought this year. "Because a lot of times I think it's just mental. Because when he won the world last time, he was so (beat-up), I'd have to help him out of bed. So I know it's not his body. I mean, it can't help anything, but I'm not convinced that shoulder wasn't like that for a long time and he maybe tore it more or something."
Therefore, Samantha knew she had nothing to worry about when J.B. decided he was going to ride and not take any time off.
This is standard operating procedure when you are the wife of J.B. Mauney.
RELATED: Mauney ties Lee for second-most rides in PBR history
"I'm not surprised," Samantha said. "I mean, he was obviously mad at himself, but he just has to get to that point to where everybody pisses him off. This hit a nerve."
Mauney has been overcoming injuries throughout his career, but he has had to dig that much deeper ever since he had to undergo reconstructive surgery on his right shoulder following the 2017 Calgary Stampede.
He has been hindered by a multitude of injuries to his groins, knees, ankles, wrist, forearm and ribs, and potentially other nondisclosed ones this season alone.
Last year, Mauney still qualified for the 2018 PBR World Finals despite a broken back and torn groin.
"The past two years have been hell," J.B. said. "Worst couple years of my career, for dang sure, and when you fight through shit like that, you hold your chin up a little higher when you come out on top."
Blyn said Mauney has one of the greatest pain tolerances he has ever seen in the sport.
"He is what I would call a classic, old school cowboy," Blyn said. "He doesn't show a lot of pain. He deals with a lot. I'm sure on a daily basis he's dealing with things that you and I would sit in a corner and wouldn't move for days, where he's getting out there and doing his thing. And that's how J.B.'s always been, which in some cases is part of his problem, because he hasn't taken care of a lot of injuries early on. And now at his age they start to mount up, and you get what you get now. But he's pretty tough."
Mauney still has work to do if he wants to qualify for the 2019 PBR World Finals.
The 14-year veteran began Houston ranked 32nd in the world standings. His second-place finish (60 world points) in Round 1 Saturday moved him up to No. 29.
"We rollin', boy," Mauney said. "We got one down. That's all I needed. We gonna roll on now."
Mauney leads No. 37 Dalton Kasel by 205.41 points heading into Championship Sunday.
"I wasn't thinking about what I needed to do," Mauney said. "I just rode. And that's what my problem's been, thinking too much. When I get in my head, there's nobody worse on J.B. than J.B. And if I can get out of my head and stay out of myself's way, everything usually goes about like that, so I've just got to quit thinking."
Mauney has drawn Yelawolf (0-0, UTB) for Round 2.
Fans can watch the conclusion of the Houston Invitational on CBS Sports Network at 6 p.m. ET and on RidePass at 3:45 p.m. ET.
If Mauney keeps it going in Houston, he may even break McBride's record for most event wins on Sunday afternoon.
"I've got a job to do," Mauney said. "Show up and do it. If I do it enough, then I'll break records. The rest takes care of itself. I don't really care what's going on. Ninety-point rides, wins, rides, I don't look at any of it. The way I look at it is, as long as I do my job, I did what I was supposed to."
Follow Justin Felisko on Twitter @jfelisko