Swearingen wins Round 1 in Houston, takes over Rookie of the Year lead in 15/15 Bucking Battle
By : Justin Felisko
August 18, 2019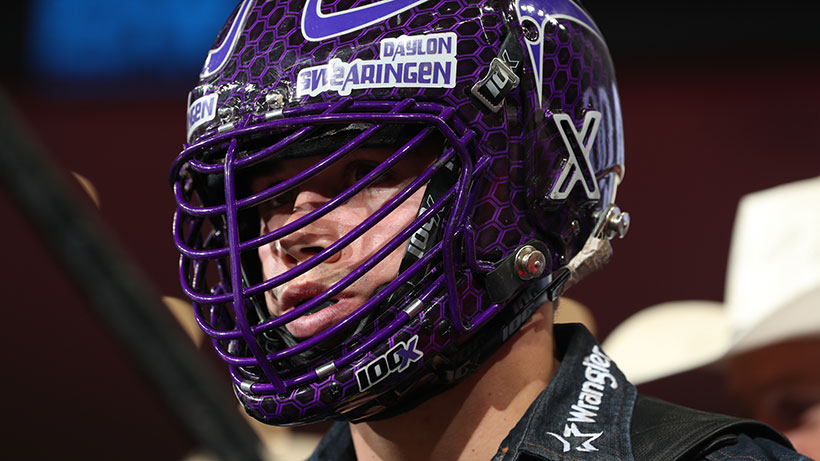 HOUSTON – Daylon Swearingen was not sure what to say or how to respond to the question on Saturday night.
He had just gotten done riding Hammerhead Blu for 88.5 points during Round 1 of the WinStar World Casino and Resort Houston Invitational, presented by Bass Pro Shops, as a member of the PBR's sponsorship department approached Swearingen for his ring size.
The 20-year-old was puzzled as he tried on different sizes to determine which size would be best.
"What finger do I even wear it on?" Swearingen asked with a laugh.
The PBR is in the process of ordering rings for the rookies that will be riding at their first PBR World Finals in less than three months.
Every rider that qualifies for the World Finals for the first time receives a ring. Riders can choose to place a ruby in the ring in subsequent years to represent each of their World Finals qualifications.
Swearingen is well on his way to qualifying for his first World Finals on Nov. 6-10 in Las Vegas at T-Mobile Arena.
Getting the ring is a prestigious and memorable moment for every bull rider, and just the thought of being one step closer to getting that ring hit home for Swearingen.
"That was pretty cool," Swearingen said. "I've won one ring this year, but rings are something you don't get all the time so it's cool when you get them."
Swearingen may be getting a lot more jewelry in Las Vegas at the 2019 PBR World Finals at the rate he is going.
The Piffard, New York, native not only won Round 1 on Saturday night at the Fertitta Center, but he also placed second in the 15/15 Bucking Battle by riding Mr. Majestic for 89 points.
Swearingen earned a combined 190 points towards the world standings on Saturday night to supplant Lucas Divino for the lead in the Rookie of the Year race.
"I really want to win it," Swearingen said. "I want to win the PRCA and the PBR (Rookie of the Year awards). Both of them, and I think it'd be cool to do it in the same year. It would just (propel) you to keep going from there."
Swearingen is currently sitting 15th in the PRCA bull riding standings and may qualify for both the PBR World Finals and Wrangler National Finals Rodeo as a rookie.
Swearingen has ridden a career-best five consecutive bulls going back to his 92-point ride on Cochise last weekend in Tulsa, Oklahoma.
The rookie has made a conscious effort to improve his control this summer after beginning his premier series career 3-for-11.
Swearingen wants to ride aggressive with precise control.
"I normally spur, but it's like I have to have more control because these bulls are a higher power so they really buck," he said. "So you've got to be quick with your feet and then beat them to the ground, because if you don't beat them to the ground, there's a lot of power going to be there."
There were 16 rides in Round 1. Rounding out the Top 5 was two-time World Champion J.B. Mauney (87.5 points on Boogie Bomb; 60 world points), Derek Kolbaba (87.25 points on M.A.G.A.; 50 world points), Brennon Eldred (87 points on Night Sweats; 35 world points) and Dener Barbosa (87 points on Major Threat; 35 world points).
Swearingen has drawn Constant Sorrow (4-5, UTB) for Round 2 on Sunday as he attempts to win his first Unleash The Beast event.
Fans can watch the conclusion of the Houston Invitational on CBS Sports Network at 6 p.m. ET and on RidePass at 3:45 p.m. ET.
Swearingen honestly did not expect to be in this great a position to qualify for the 2019 World Finals when the season began back in January.
At the time, the Panola College student was focused on winning the 2019 Collegiate National Finals Rodeo bull riding championship, which he wound up accomplishing this past June.
Swearingen figured he would have to use the Pendleton Whisky Velocity Tour Finals to earn a spot at the World Finals.
Instead, Swearingen is now the No. 10 bull rider in the world standings.
"It's just a big blessing," Swearingen said. "It wasn't really in my goals – it was my goal to be there, but qualify through the Velocity Finals – but it's all working out, and God has a plan."
Follow Justin Felisko on Twitter @jfelisko