Heartbreak Kid bucks off Teel for 35th consecutive buckoff and moves into tie for second most all time
By : Justin Felisko
August 18, 2019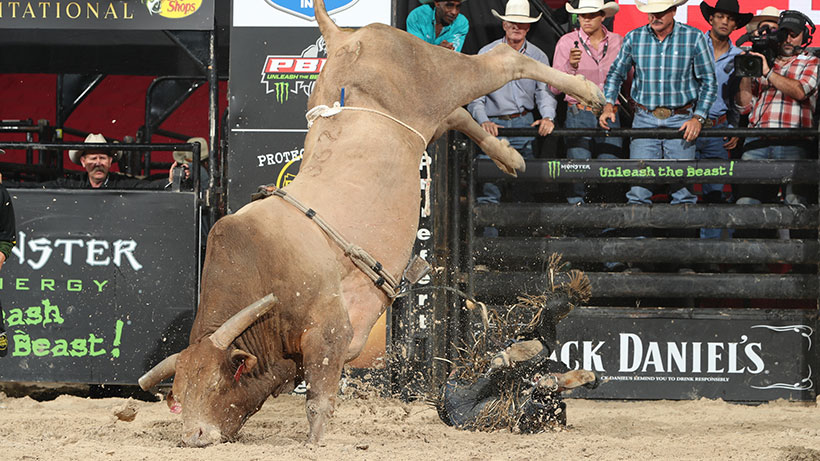 HOUSTON – 2012 PRCA champion Cody Teel spent about 10 minutes debriefing with his father, Robbie, and fellow bull rider Joe Frost Saturday night following his failed attempt to ride Heartbreak Kid.
For as much disappointment that Cody had with his performance, there was also animated excitement about what he had just experienced.
Teel got his first taste of the rank D&H Cattle Company bovine athlete and lasted a brief 4.17 seconds during the 15/15 Bucking Battle at the WinStar World Casino and Resort Houston Invitational, presented by Bass Pro Shops.
The 27-year-old cowboy from nearby Kountze, Texas, liked what he felt with Heartbreak Kid, and he would love to get another crack at the rankest bull in the PBR.
"I wish they could run him back in right now," Teel said. "He is a really athletic bull, and I like all the snatch and power he brings to it. He is a handful and a really smart bull. I would like to get on him again."
Heartbreak Kid lunged out of the bucking chutes inside the Fertitta Center and stutter-stepped ever so briefly before turning away from Teel's hand.
The rising bovine star got Teel off-balance, and then used his brute strength to whip the No. 5 bull rider in the world off to the side.
The buckoff is Heartbreak Kid's 35th consecutive on the premier series and 55th overall.
Heartbreak Kid moves into a tie with Pandora's Box and Silver Wings for the second most consecutive buckoffs on the premier series all time.
"He is just smart and on top of it," Teel said. "He is a physical specimen of a bucking bull. He is so athletic and lean, the way he is built. He is such a smart bull and his record speaks for itself. You have to keep your shoulders square with his. That is really all you can do. Take the fight to him like he is going to bring it to you."
The 6-year-old bull is eight buckoffs away from breaking three-time World Champion Bull Bushwacker's record streak of 42.
Heartbreak Kid was the high-marked bull of the 15/15 Bucking Battle with 45.5 points. The score pushed him to No. 5 in the YETI World Champion Bull race and improved his World Champion average to 44.94 points.
No. 1 Smooth Wreck has a World Champion Bull average of 45.66 points and is not bucking in Houston this weekend.
Teel is the latest Top 10 rider to fail to reach the 8-second mark aboard Heartbreak Kid. The stout bull has bucked off six of the Top 10 riders in the world standings in 2019.
Heartbreak Kid has also bested four PBR or PRCA champions this season –Teel, Cooper Davis, Jess Lockwood and Silvano Alves.
Lockwood was the closest (6.9 seconds) to riding Heartbreak Kid on the premier series in the past three years. Otherwise, it has been all heartbreak for the best cowboys in the world.
The only 8-second ride ever surrendered by Heartbreak Kid came at the January 2017 Denver Velocity Tour event when Luciano de Castro rode him for 75 points and turned down a re-ride.
"You obviously want to crack him, and I am not pleased, but I learned a lot from him and I am going to take that into the next ride," Teel said. "If I ever get on him again and get a shot at him, I will try to connect next time.
"I never lose. I try to learn. You take a loss and learn from it. I now know what he is about and I am ready for it."
Follow Justin Felisko on Twitter @jfelisko