Alves becomes seventh rider to reach 400 qualified rides on the premier series
By : Justin Felisko
August 18, 2019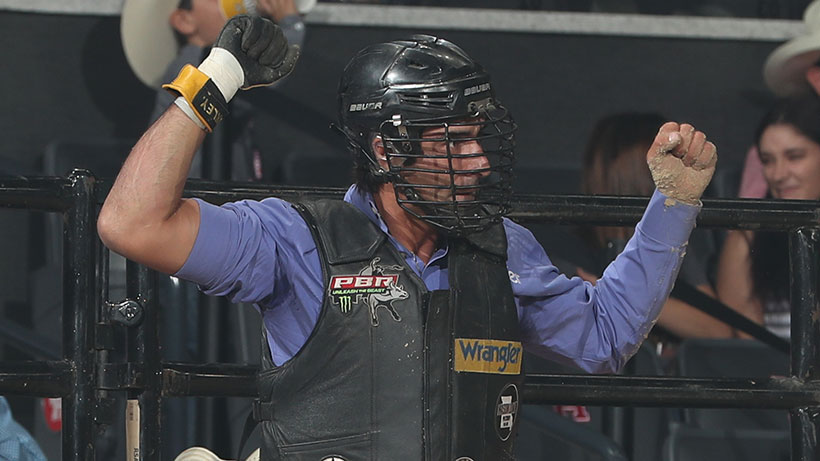 HOUSTON – Silvano Alves had already established himself as one of the all-time legendary bull riders well before he climbed into the bucking chute on Sunday afternoon at the Fertitta Center.
However, Alves added a new chapter to his legacy when he rode Dusty's Revenge for 85.75 points during Round 2 of the WinStar World Casino and Resort Houston Invitational, presented by Bass Pro Shops.
Alves picked up the 400th ride of his career by handling Dusty's Revenge away from his hand before the bull turned back into his wheelhouse.
"It is so hard at this level of the PBR. So many tough bulls," Alves said. "These are the best bulls and best cowboys in the world. Right now, and these last couple of years, the bulls have changed a lot. There is more power. There are a lot of young bulls and different bulls every week.
"This is very special for me. 400 rides in my career is like one more victory for me."
Alves was unable to get the event victory on Sunday when Zorro bucked him off in 4.99 seconds during the championship round.
Still, Alves left the Fertitta Center knowing he ranks alongside some of the PBR's best when it comes to making the 8-second mark.
Alves is the seventh rider to join the prestigious 400 rides club.
2008 World Champion Guilherme Marchi (635), two-time World Champion J.B. Mauney (526), 2004 World Champion Mike Lee (525), 11-time PBR World Finals qualifier Valdiron de Oliveira (429), two-time World Champion Chris Shivers (412) and 2012 Ring of Honor inductee Ross Coleman (402) have also reached the historic number.
"These are the best riders in the PBR, and not too many ride 400 or 500," Alves said. "For me, this is very special."
Marchi said via Whatsapp, "Silvano is tough. He is a great bull rider and a great champion."
Alves admitted on Saturday afternoon before he rode Sharky for 83.5 points and career ride 399 that he was unaware of how close he was to 400 rides.
The 31-year-old said he never really paid attention to how many rides he had accumulated since making his debut on April 9, 2010 in Nampa, Idaho, with a 4-for-4 victory.
"I had no idea," Alves said. "I never check my riding stats like that."
It was fitting, in a way, that Alves would reach the 400 threshold on a historic weekend for Mauney as well.
The two riders spent the primes of their respective careers battling it out for the PBR World Championship from 2011-2015.
Mauney took over sole possession of the No. 2 spot on the all-time qualified rides list on Saturday night with an 87.5-point ride on Boogie Bomb.
"I am a big fan of J.B., and I have a lot of respect for J.B.," Alves said. "He is the best cowboy here in the United States. When we were riding head-to-head, it was so fun because we weren't fighting the person. It was just the game. I remember sitting in bed and watching videos of his rides. I have good memories with him."
Mauney commended Alves for reaching the 400 rides mark.
The 32-year-old knows how hard it is to reach that number against the current caliber of bulls on the Unleash The Beast.
Mauney left the arena Sunday with a likely broken jaw and his right shoulder, which already has a torn rotator cuff, banged up.
"That's a good job," Mauney said. "He rides good, and he has been around for a long time."
2017 World Finals event winner and current World Champion contender Jose Vitor Leme remembers following the battles between Alves and Mauney from back in Brazil.
Leme would always hear about Alves and how well he was riding in the United States.
The 23-year-old hopes to one day join the pair in the record books as a World Champion, and he tipped his hat to Alves for reaching 400 rides.
"It is very important because everybody would like to ride 400 bulls," Leme said with the help of a translator. "That is a goal everybody would like to reach and very few can do it. That is a very big accomplishment.
"If I could accomplish something like that in my career, it would be very special."
Alves owns the PBR record for most consecutive qualified rides on the premier series with 24 in a row, which he accomplished from the end of the 2014 season into 2015.
The Pilar do Sul, Brazil, native rode 13 straight bulls on the way to winning his third World Championship in 2014.
RELATED: Alves believes ride streak can be broke
World leader Jess Lockwood had asked about Alves' record on Sunday morning after talking about the record with his agent Brandon Bates.
"Twenty-four in a row is a lot," Lockwood said. "That is something everybody wants to break. You expect yourself to ride everything you get on. A record like that is something you are pretty much going for every time."
Lockwood, who picked up the 100th ride of his career Sunday by riding Budakon for 88.75 points, congratulated Alves on reaching the 400 rides mark.
"That is staying on a hell of a lot of bulls," Lockwood said. "I don't even know if I have been on that many bulls in my life. To ride that many is insane."
Alves may have set another record in 2015 and won a fourth world title if not for a broken hip in Nampa, Idaho, that forever altered his career.
He was fourth in the world standings before undergoing surgery and missing four months.
Alves had 289 career rides at the time of his injury in 2015, and has only recorded 111 since then.
"When I broke my hip, I wasn't sure if I could do it again," Alves said. "Could I ride the same again? It is hard. The last 100 (rides) has been harder. When I was young, I did not care about how many bulls I ride. When you are older, and injuries, it is not the same as when you are young. Sometimes you are much more sore and you are not too flexible. After I broke my hip, it hurt a little bit."
Alves heads into next weekend's Jack Daniel's Music City Knockout, presented by Cooper Tires, ranked 22nd in the world standings.
Fans can watch all the action from Nashville on CBS Sports Network at 8 p.m. ET Saturday and on CBS national television Sunday live at 4 p.m. ET.
Alves' 29.17% riding percentage is the lowest of his career, but he believes he can turns things around before the 2019 World Finals on Nov. 6-10.
The nine-time PBR World Finals qualifier also believes it is possible for him to join Marchi, Mauney and Lee in the 500 rides club before he retires. Alves thinks 600 may not be out of the question either.
"I can get 500 or 600 rides," Alves said. "I will try (to break the record), but I don't have any plans to stop riding."
If Alves rode five more seasons, he would need to average 40 rides a year to surpass 600 rides. However, he has not ridden more than 40 since riding 50 during his 2014 world title season.
"I don't want to ride until I am too old, but I think I could ride four or five more years," Alves said. "I don't know about six or seven. I want to make sure I stop when I am not too old and I am well.
"If I don't break the record, then I will just try to ride how many I can and see what happens."
Follow Justin Felisko on Twitter @jfelisko