Davis looking to duplicate 90-point success in Houston next week in Nashville
By : Justin Felisko
August 18, 2019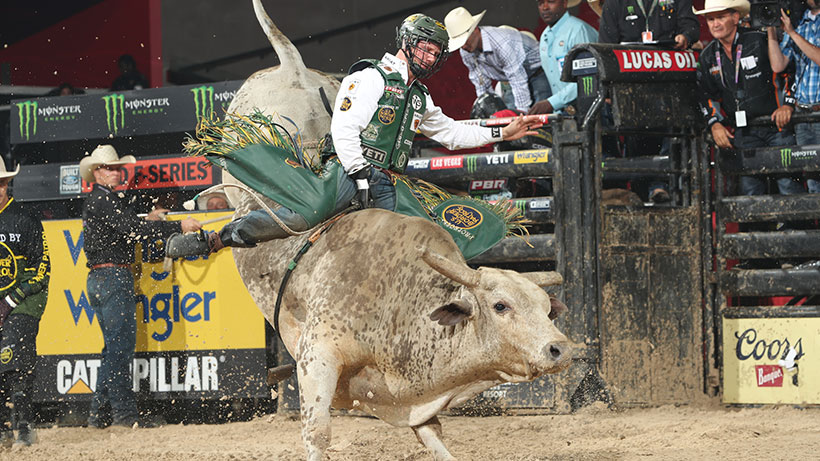 HOUSTON – There is a timer in the back of 2016 World Champion Cooper Davis' mind that is getting louder and louder as the clock counts down.
Davis knows that if he hopes to put himself in a position to win a second world title this season, he needs to find another gear before it is too late.
The 25-year-old salvaged his weekend at the WinStar World Casino and Resort Houston Invitational, presented by Bass Pro Shops, by riding Lester Gillis for 90 points, but he knows a championship round victory and a tie for second place overall (295 world points) in Houston is not enough.
"I just know I have to hit the gas pedal and I hadn't quite done it," Davis said. "I know it's getting shorter, so it's either going to have to happen now or it's too late and I will get ready for next year."
The No. 6-ranked bull rider in the world standings trails world No. 1 Jess Lockwood by 2,330 points following Lockwood's second consecutive victory on the Unleash The Beast.
Historically, any rider within the 2,000-point mark of the world lead has a legitimate chance of winning the world title when the PBR World Finals rolls around.
The Jack Daniel's Music City Knockout, presented by Cooper Tires, is Davis' last chance to make up significant ground in one weekend before the 2019 PBR World Finals begins on Nov. 6 at T-Mobile Arena.
Yes, there are seven more regular-season Unleash The Beast events after Nashville, but a PBR Major victory would assure Davis a much greater chance at winning the $1 million championship this year.
The conclusion of the Music City Knockout is airing LIVE on CBS national television next Sunday at 4 p.m. ET.
Rounding out the Top 5 in Houston behind Lockwood, Davis and Stetson Lawrence (3-for-3, 295 world points) were Cody Teel (2-for-3, 160 world points) and Daylon Swearingen (1-for-3, 110 world points).
Davis won the Nashville PBR Major event three years ago to spearhead his run to the 2016 World Championship.
RELATED: How Nashville won Davis the 2016 World Championship
The problem, though, is Davis was only 795.33 points out of the world lead three years ago before he won the Nashville Major on Aug. 20 and then the Tulsa, Oklahoma, event the following week.
Davis is hopeful he can take the same fire he had going up against Lester Gillis on Sunday into Nashville next week.
The Jasper, Texas, bull rider started off Houston well with 86.5 points on Jay Slinger. Davis was then bucked off by Canadian Mist (3.7 seconds) in the 15/15 Bucking Battle and Rocket Man (4.93 seconds) in Round 2.
He was not thrilled about being the last rider in the championship round, but it wound up working out for him when he saw he was left with Lester Gillis.
"I must've had some friends up ahead of me to leave him for me, and I was really excited to have him, especially a bull I've had some success on before," Davis said.
Davis has ridden Lester Gillis in two of three meetings, and he is one of only four riders to have successfully ridden him in 48 UTB outs.
It is a reminder to Davis that he can cover the toughest of opponents when his mind is focused, which will certainly be necessary in Nashville next weekend at Bridgestone Arena.
"I just have to do better about riding the bulls I've got and be confident no matter what they do," Davis said. "So if I can be confident going in the rest of the year, that one (Lester Gillis) right there is a good help. He's a bull nobody gets by but I've got by him twice, so I know I can do it and know I have the ability.
"I just have to believe in myself enough."
Follow Justin Felisko on Twitter @jfelisko