Castro hopes to be ready for Nashville; Mauney and Frost injured Sunday in Houston
By : Justin Felisko
August 18, 2019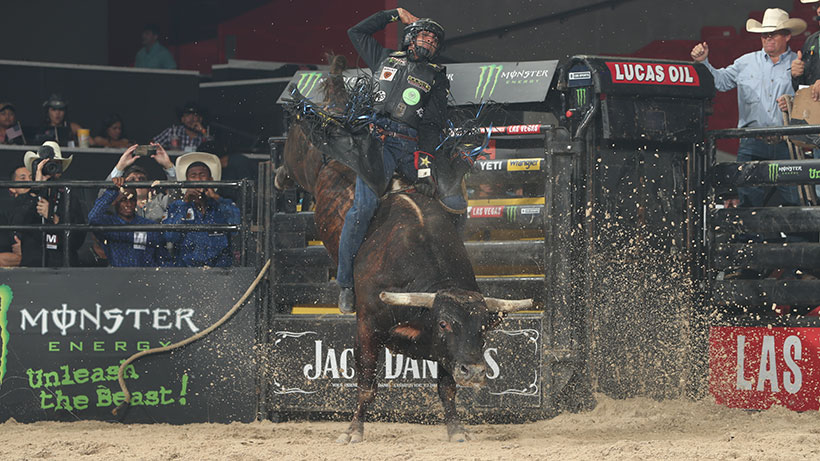 HOUSTON – World No. 7 Luciano de Castro felt like Houston was going to be the start of a late-season push up the world standings, but instead Castro left the Fertitta Center battered, bruised and disappointed in his missed opportunities.
Castro did not compete on the final day of the WinStar World Casino and Resort Houston Invitational, presented by Bass Pro Shops, after he sustained multiple contusions to his right thigh, right chest wall and right triceps (free arm) when he was bucked off by Fly Over in 3.12 seconds in Round 1 Saturday night.
The 23-year-old received some treatment from the PBR sports medicine team at the arena Sunday, but he was certainly still in some pain.
"What's bothering me right now is that I drew good bulls and unfortunately, what happened yesterday happened, and today I missed an opportunity to ride a good bull (Slingin Tears)," Castro said through a translator.
Castro said he does not need to get any X-rays or MRIs this week, and that he mainly just needs a few days to let his injuries heal.
The third-year pro says he will do all he can to make sure he is ready for the upcoming Jack Daniel's Music City Knockout, presented by Cooper Tires, in Nashville on Saturday and Sunday.
Fans can watch all the action from Nashville on CBS Sports Network at 8 p.m. ET Saturday and on CBS national television Sunday live at 4 p.m. ET.
One rider can earn potentially 1,250 points toward the world standings by winning the final PBR Major of the 2019 season.
Castro sits 2,850 points behind world leader Jess Lockwood.
"I'm going to work hard to do physical therapy to be good to ride next weekend in Nashville," Castro said. "I dream of being a World Champion, and I was very happy to draw the bulls that I drew this weekend. I thought I was going to make some points here. Now I'm going to try my best to be in Nashville, so I can catch up."
MAUNEY TO BE EVALUATED TUESDAY FOR BROKEN JAW/SHOULDER INJURY
Two-time World Champion J.B. Mauney overcame a torn rotator cuff in his right shoulder to pick up a historic 526th ride of his career Saturday night when he covered Boogie Bomb for 87.5 points.
Nothing went Mauney's way on Sunday, though.
Mauney was first jerked down by Yelawolf in 5.53 seconds in Round 2, which resulted in a potential broken jaw and a laceration on his chin, according to Dr. Tandy Freeman.
That was not the end for Mauney, who also later revealed that Yelawolf broke three of his teeth.
Mauney was determined to still ride in the championship round, and that was when he was hit with bad luck and further turmoil.
Just Blaze left the chute with Mauney but fell in 1.39 seconds, slamming the 13-time PBR World Finals qualifier right on his injured right shoulder.
Mauney immediately grimaced in pain and grabbed at his arm.
The No. 30-ranked bull rider in the world standings said after the event that he will go see Freeman on Tuesday to get X-rays on his jaw and see if his shoulder needs to be evaluated further.
Mauney is hopeful his shoulder is nothing serious and that it was more of a stinger or sprain.
"I will go get it looked at Tuesday," Mauney said. "Tandy thinks it could be just muscle from where I tore all that shit from when he fell on me. I probably broke my jaw. I will have to get that X-rayed, too. We will see about the shoulder. I think it is just from hitting the ground where it is all swollen."
Mauney said he will wait a few days and meet with Freeman before deciding on his status for Nashville.
It was a weekend of highs and lows for Mauney, but he knows the one way to avoid any mishaps like he did in the championship round would have been to make the 8-second mark earlier in the day.
"I felt good," Mauney said. "If you stay off your head and out from under them you will be alright. That was just bad luck (in the championship round). If I ride the second one (Yelawolf), I would have had a better pick."
FROST TO HAVE SURGERY ON BROKEN LEG
Rookie of the Year contender Joe Frost will undergo surgery Monday after breaking his right leg during the championship round when Midnight Rain bucked him off in 6.98 seconds. Frost got hung up on his bull rope before Midnight Rain stepped on his leg, ending what was turning into a standout weekend for the Randlett, Utah, bull rider.
According to Dr. Tandy Freeman, Frost is listed as questionable for the PBR World Finals.
Frost is ranked No. 20 in the world standings and sixth in the Rookie of the Year race.
NANCE PROBABLE FOR NASHVILLE
Cody Nance is probable for Nashville after spraining his left sternoclavicular joint in his riding arm when he was struck by Hardball's head in Round 2 when he was bucked off in 7.53 seconds says Freeman.
LANE QUESTIONABLE FOR NASHVILLE
According to Dr. Tandy Freeman, Michael Lane is questionable for Nashville after sustaining a concussion Sunday in Houston. Lane was bucked off by Air Support in 2.31 seconds.
VALDIVIEZO MISSES FINAL DAY WITH WRIST INJURY
Team Mexico hopeful Jorge Valdiviezo missed Championship Sunday because of a sprained right riding wrist. Valdiviezo injured his wrist, per Freeman, in Round 1 when he landed on his outstretched hand when he was thrown by Birthday Cake in 2.41 seconds.
Follow Justin Felisko on Twitter @jfelisko