Dirteater released from hospital, expects to be back in time for 2019 PBR World Finals
By : Justin Felisko
August 18, 2019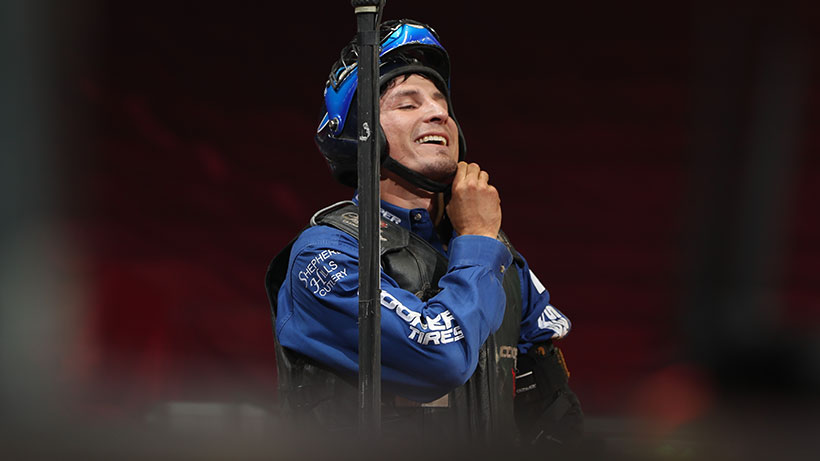 HOUSTON – 2016 PBR World Finals event winner Ryan Dirteater is happy to announce that he is home in Hulbert, Oklahoma, following a weeklong stay at Saint Francis Hospital in Tulsa, Oklahoma.
Dirteater announced on social media Sunday evening that he was finally released from the hospital after being admitted on Aug. 11 following injuries sustained during the Express Ranches Classic, presented by Osage Casino.
The No. 9 bull rider in the world standings sustained a collapsed lung, lacerated liver and multiple rib fractures in Tulsa after he had his back stepped on following an 86.75-point ride on M.A.G.A. in the championship round.
Dirteater has been completely humbled and overwhelmed by the outpouring of support in the last week. He has received an avalanche of messages, gifts and even hospital visits from fans.
The 30-year-old will need to undergo a CT scan in about eight weeks to make sure his liver is healing properly. Dr. Tandy Freeman will then re-evaluate a timeline for when Dirteater can return to competition.
Both Freeman and Dirteater expect him to be cleared in time to ride at the 2019 PBR World Finals on Nov. 6-10 in Las Vegas at T-Mobile Arena. Dirteater has competed at eight consecutive PBR World Finals since missing the 2009 and 2010 Finals because of injuries.
Thanks for all the prayers, and messages people are sending me. I'm trying to get back with everyone the best I can. The good news is I'm going to be ok. Just a little bump in the road. I'll be back💪👊 pic.twitter.com/E4w1PlpRQz

— Ryan Dirteater (@ryandirteater) August 13, 2019
Follow Justin Felisko on Twitter @jfelisko