Breaking down the top world title contenders' PBR Major performances heading into Nashville
By : Justin Felisko
August 19, 2019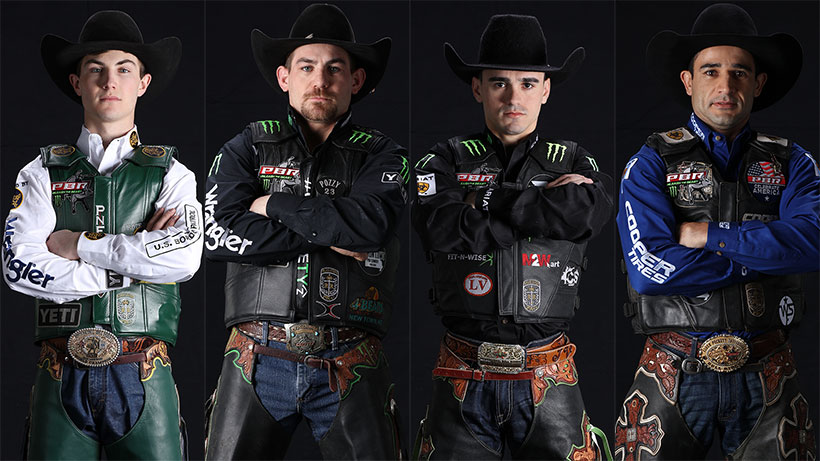 HOUSTON – It is no surprise that three of the Top 4 riders in the world standings have won a PBR Major in 2019.
One rider can potentially earn 1,250 points toward the world standings with a PBR Major victory, and the last three World Champions have won a PBR Major during their quest to the gold buckle.
The blueprint during these last five seasons has been quite simple – win a PBR Major and assure yourself a seat at the World Championship table come the World Finals.
This coming weekend's Jack Daniel's Music City Knockout, presented by Cooper Tires, in Nashville, Tennessee, is the final PBR Major of 2019.
Don't miss the championship round LIVE on CBS 8/25 at 4 p.m. ET.
Any of the Top 3 riders in the world standings – Jess Lockwood (New York), Chase Outlaw (Last Cowboy Standing) or Jose Vitor Leme – can leave Bridgestone Arena on Sunday night as the new world No. 1.
If any of them, especially world leader Lockwood, were to be victorious in Nashville, it would be a major dagger to any rider hoping to use a PBR Major victory to jump back into the championship race.
Historically, any rider within the 2,000-point mark of the world lead has a legitimate chance of winning the world title when the PBR World Finals begins.
As of today, only Outlaw, Leme and No. 4 Joao Ricardo Vieira are within that sweet spot with the Music City Knockout and six additional regular-season Unleash The Beast events remaining before the 2019 PBR World Finals on Nov. 6-10 in Las Vegas.
The 2019 World Championship race will look much clearer by the conclusion of the Music City Knockout, which fans can watch LIVE on CBS national television Sunday at 4 p.m. ET.
Round 1 airs live on CBS Sports Network Saturday night at 8 p.m. ET and RidePass at 7:30 p.m. ET.
This season's Nashville Major will not be a bracket-style event like it was from 2015-2018.
Instead, it will feature the same progressive elimination format that debuted in Cheyenne four weeks ago, where fans saw one of the best events in the history of the sport.
Forty riders will begin in Round 1 with the Top 25 scores advancing to Round 2. The Top 8 riders via aggregate score following the second round will then advance to Round 3. Next, Round 4 will then consist of the top four riders in the aggregate based upon the previous three rounds.
Essentially, the first four rounds will be cut down from 40 riders to 25 to eight to four.
Round 5 will feature every rider who posted a qualified ride in Round 4. A minimum of two riders will compete in Round 5. If only one rider covers in Round 4, then the PBR will draw back one rider (based on aggregate scores following the completion of Round 4).
Here is how the Top 4 riders in the world standings have performed in PBR Majors during their careers
No. 1 Jess Lockwood
PBR Major Events: 11
Rides: 18
Attempts: 34
Riding Percentage: 52.94%
Wins: 2 (2017 New York & 2019 New York)
90-point rides: 2
Lockwood opened the season with a PBR Major victory at the Monster Energy Buck Off at the Garden, riding Prayer Warrior for 91.75 points in the championship round, and then won a second consecutive event the following week in Chicago.
The 21-year-old now heads into Nashville coming off back-to-back wins once again, courtesy of eight consecutive rides in Tulsa, Oklahoma, and Houston.
Lockwood is a 52.94% rider in the PBR Majors, but he has found his payday primarily through New York.
Nine of Lockwood's 18 rides at PBR Majors have come inside Madison Square Garden.
In 2017, Lockwood began his march to the World Championship with a season-opening win in New York.
Lockwood never made it out of the first round at two Iron Cowboy events (0-for-2), and he is 4-for-10 at Last Cowboy Standing.
He was eliminated in Cheyenne following the second round last month when Pennywise bucked him off in 2.89 seconds.
The Volborg, Montana, bull rider has had some success inside Bridgestone Arena, though, and is 5-for-11 in Nashville. Lockwood actually had advanced to the second round last year until he decided to pull out of the event because of a torn right groin.
The injury was the end of Lockwood's pursuit of winning back-to-back world titles. The then No. 7-ranked rider in the world would try to ride in Springfield, Missouri, to no avail and would shut himself down until the 2018 PBR World Finals.
No. 2 Chase Outlaw (340 points behind Lockwood)
PBR Major Events: 9
Rides: 8
Attempts: 21
Riding Percentage: 38.09%
Wins: 1 (2019 Last Cowboy Standing)
90-point rides: 2
Outlaw's victory at Last Cowboy Standing in Cheyenne was nothing short of storybook. One year after shattering his face in Cheyenne and needing 12-plus hours of reconstructive surgery, Outlaw returned to the scene of the devastation to win the PBR Major in front of his family and friends.
The victory propelled Outlaw back into the world No. 1 ranking and helped close the chapter on one of the darker moments of his career.
It was certainly an emotional win for Outlaw, but it was also tremendously important to Outlaw's 2019 title pursuit.
Say Lucas Divino wound up riding three-time World Champion Bull SweetPro's Bruiser in Round 5 to win the event. Instead of Outlaw being only 340 points behind Lockwood in the standings today, Outlaw would be facing a 965-point deficit.
Outlaw had previously struggled in PBR Majors until breaking through in Cheyenne with two 90-point rides – 93.5 points on No. 1 bull Smooth Wreck and 90.5 points on Rising Sun.
The Hamburg, Arkansas, bull rider is 0-for-3 in Nashville since it became a PBR Major, but he does have a victory in Nashville from five years ago (2014).
No. 3 Jose Vitor Leme (453.34 points behind Lockwood)
PBR Major Events: 7
Rides: 8
Attempts: 19
Riding Percentage: 42.10%
Wins: 0
90-point rides: 0
Leme is the only rider in the Top 4 without a PBR Major victory in 2019, or in his career, but he has used 13 round wins on the Unleash The Beast to stay within striking distance of Lockwood.
Leme picked up his league-leading 13th round win Sunday in Houston by riding Pan Am for 87.75 points during Round 2 of the WinStar World Casino & Resort Houston Invitational, presented by Bass Pro Shops.
The 23-year-old is only competing in his second full season in the PBR after making a sensational debut at the 2017 PBR World Finals.
Of course, Leme proved in Las Vegas that he could handle the PBR's grandest stage. He rode all six of his bulls to take the event title and Rookie of the Year crown just 10 days after arriving in the United States.
Leme has been phenomenal so far in his career – 79-for-146 (54.11%) on the Unleash The Beast, 17 90-point rides and four event wins -- but he is still missing an illustrious PBR Major win.
The No. 3 rider in the world standings has been pretty good (7-for-12) in progressive elimination events. Leme advanced to Round 4 in each of the Last Cowboy Standings, finishing in third place in 2018 and fourth in Cheyenne. He also advanced to Round 3 at Iron Cowboy this past February.
No. 4 Joao Ricardo Vieira (1,312.5 points behind Lockwood)
PBR Major Events: 18
Rides: 33
Attempts: 54
Riding Percentage: 61.11%
Wins: 3 (2015 Iron Cowboy, 2015 Last Cowboy Standing, 2019 Iron Cowboy)
90-point rides: 4
Vieira is the most experienced at the PBR Majors out of the world title contenders.
The 35-year-old has competed at every PBR Major since the PBR launched the marquee-event formats at the 2015 Iron Cowboy in Arlington, Texas.
The 2013 Rookie of the Year won the first two PBR Majors in PBR history that year as well, but he did not go on to win the 2015 World Championship thanks to J.B. Mauney. In fact, Mauney is the only rider in the current points system to have won the world title without winning a PBR Major.
Vieira has been outstanding at the Majors, going 33-for-54, but he is only 2-for-10 in Nashville. However, he is 16-for-29 (55.17%) in the progressive-elimination format, which he has won two times.
The seven-year pro won Iron Cowboy this past February with a 3-for-3 performance and a 90.25-point ride on Cochise.
Vieira most likely needs a Nashville victory this weekend to get himself back into 2019 title contention. He has fallen more than 1,300 points behind Lockwood, and he is not going to make up ground by winning rounds like Leme can. Vieira has only won four rounds in 2019.
Follow Justin Felisko on Twitter @jfelisko