Lockwood returning to Nashville riding better than ever one year after his bid to win a second consecutive world title came to a halt
By : Justin Felisko
August 20, 2019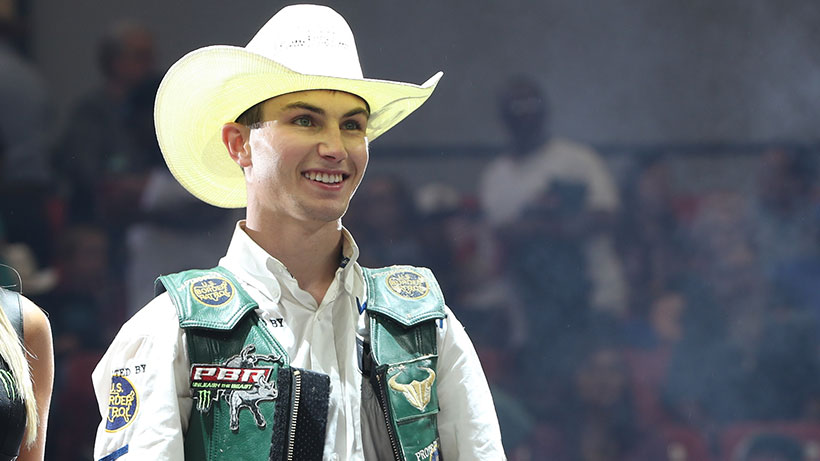 PUEBLO, Colo. – Could Jess Lockwood have been going for a record-setting third World Championship this year?
Maybe.
It was last year when Lockwood was still in the hunt to become just the second rider to ever win back-to-back world titles when he arrived in Nashville for the Music City Knockout as the No. 7-ranked bull rider in the world standings.
Don't miss the championship round LIVE on CBS 8/25 at 4 p.m. ET.
Lockwood was a little more than 1,000 points behind world leader Kaique Pacheco and had goals of winning the final PBR Major of 2018 to get himself right back in the thick of things.
However, Lockwood wound up tearing his right groin attempting to ride Locke & Loaded in the bracket-formatted event. Lockwood actually defeated Lachlan Richardson and was set to advance to the third round, but he eventually decided to withdraw from the event.
He was hopeful a two-week break would do him good, but that was not the case as he then tore his groin completely when he returned in Springfield, Missouri, on September 7, 2018.
It was then decided that the best-case scenario was for Lockwood to shut things down for the rest of the regular season and return for the 2018 PBR World Finals.
That decision was the official nail in the coffin for his world title defense.
Does he ever regret not trying to ride in Nashville last year with the groin injury, especially considering riders could advance in the old format via buckoff time?
"Nah," Lockwood said in Houston last weekend. "It was pretty tore up that I had no chance to do any good there. Sometimes last year I didn't give a shit to be there or anything, and it showed in my training and how I took care of my body. It is a whole different story now."
One year later, a healthy Lockwood returns to Nashville with the opportunity to put a commanding hold on his lead atop the world standings.
Instead of being a nail in the coffin, he could be the one using the hammer against his challengers.
Lockwood heads into the Jack Daniel's Music City Knockout, presented by Cooper Tires, with a 340-point lead on No. 2 Chase Outlaw. There are only two other riders within 2,000 points of Lockwood – No. 3 Jose Vitor Leme (-453.34 points) and No. 4 Joao Ricardo Vieira (-1,312.5).
One rider can earn a maximum of 1,250 points toward the world standings in Nashville and a minimum payday of $100,000.
This season's Nashville Major will not be a bracket-style event like it was from 2015-2018.
Instead, it will feature the same progressive elimination format that debuted in Cheyenne four weeks ago.
RELATED: Outlaw wins memorable Last Cowboy Standing title
Forty riders will begin in Round 1 with the Top 25 scores advancing to Round 2. The Top 8 riders via aggregate score following the second round will then advance to Round 3. Next, Round 4 will then consist of the top four riders in the aggregate based upon the previous three rounds.
Essentially, the first four rounds will be cut down from 40 riders to 25 to eight to four.
Round 5 will feature every rider who posted a qualified ride in Round 4. A minimum of two riders will compete in Round 5. If only one rider covers in Round 4, then the PBR will draw back one rider (based on aggregate scores following the completion of Round 4).
"This is going to be a huge decider right there," Lockwood said. "If one of us in the Top 3 can win that, that is going to be a big deal."
Nashville is an opportunity for the top riders in the world to prevent any outside contenders from making up ground, while helping push themselves one step closer to a world title.
Lockwood has been on an absolute tear since Outlaw won the last PBR Major in Cheyenne at Last Cowboy Standing.
After watching Outlaw take over the world lead in Cheyenne, Lockwood has ripped off eight consecutive rides to win back-to-back events in Tulsa, Oklahoma, and Houston. Lockwood also tied with Daylon Swearingen for the 15/15 Bucking Battle victory in Tulsa by riding Bezerk for 92 points.
Overall, Lockwood has earned 1,150 points toward the world standings in two weeks after falling 667.5 points behind Outlaw in Cheyenne.
One of the first men to congratulate Lockwood in Houston after his win was Outlaw.
"It is how it is supposed to be," Lockwood, who also congratulated Outlaw in Cheyenne, said. "You are supposed to congratulate someone on a good ride, and you want them to stay on because you are not a true winner if everyone bucks off and you win it. When everyone rides and makes it a true bull riding, then that is a sweet victory."
Outlaw and Lockwood flip-flopped atop the world standings in Houston after Outlaw won the 15/15 Bucking Battle on Saturday with an 89.75-point ride on Hostage before Lockwood won the overall event Sunday.
Lockwood said there is no question that seeing Outlaw win in Cheyenne and seeing Jose VItor Leme win his PBR-best 13th round of 2019 in Houston are reminders of just how tight the race at the top of the standings is.
Outlaw and Leme are stiff competition, and they are motivating Lockwood to raise his game to new levels.
"If you don't (win), you are going to get left in the dust," Lockwoood said. "If you don't pick the bulls to win the short go on when you have the opportunity, or do all you can to get all you can out of a bull by spurring, you are going to get left in the dust by those guys. They are not going to fall off often."
Lockwood now leads the PBR with four Unleash The Beast wins. This is the second time this season he has won back-to-back events.
"Jess, ability-wise, style-wise, is able to handle whatever," two-time World Champion and Team USA Eagles coach Justin McBride said. "Jess is the more refined rider of (Outlaw and Leme). He still makes little mistakes here and there, and still wants to get a hump in his back sometimes, but for the most part Jess is really freaking good."
Lockwood rode Budakon for 88.75 points in the championship round Sunday in Houston to take over the event lead.
"Out of all them other ones, I thought he was bucking and firing so I thought I could be as many on him as anything else in there that fit me," Lockwood said.
The ride was also the 100th of his career. Lockwood is the 10th fastest to reach 100 rides (Silvano Alves reached 100 in 47 events).
Lockwood actually felt he got lucky with his latest victory.
He was shocked to see Stetson Lawrence come up short of taking over the event lead with his 86.5-point ride on Safety Meeting, and then watch Dener Barbosa (5.7 seconds on Shownuff) and Cody Teel (6.36 seconds on Sosa's Alley Cat) buck off.
"I did my job and rode my long round bulls," Lockwood said. "Everybody in front of me going into the short round, pretty much all they had to do was stay on. Those guys – Dener, Stetson and Teel – don't buck off, especially with the bulls they had.
"I thought I could still win the short go, but would finish third at best. To see those guys buck off there, I dodged a bullet there and lucked out."
Lockwood is 26-for-37 (70.27%) in 10 Unleash The Beast events this season. He missed nine events because of a broken collarbone he sustained at the Global Cup USA in February.
Only one World Champion since 2000 has finished a season with a riding percentage over 70%. In 2008, Guilherme Marchi concluded his gold buckle season with a 72.55% (74-for-102) riding average.
"Jess has gotten to the point now where, he used to say he was supposed to ride every bull, but now he knows there are not many out there that can get him on the ground and he just messed up if they did," McBride said.
Lockwood is not only on pace to set a new career-high for riding percentage, but also in qualified rides on the premier series.
He rode 28 bulls in 2017 when he won the world title despite having the lowest riding percentage (43.75%) of any World Champion.
"I'm not keeping count," Lockwood concluded. "I am just trying to ride my bulls."
Follow Justin Felisko on Twitter @jfelisko