Mauney avoids serious injury and expects to be back for Anaheim
By : Justin Felisko
August 21, 2019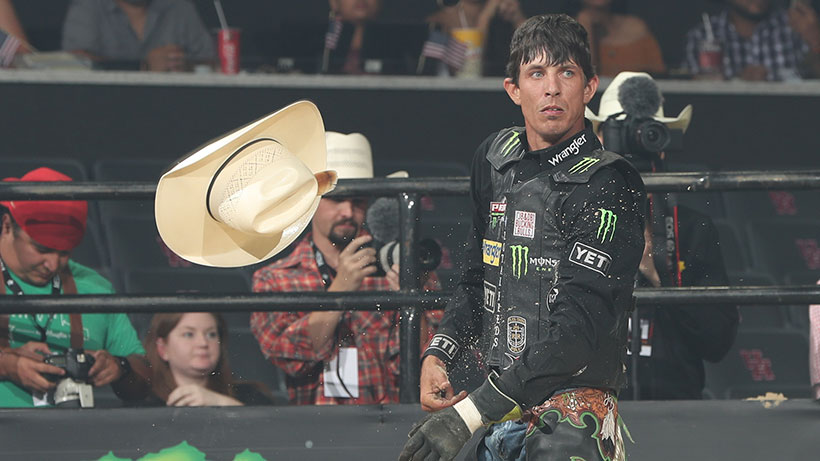 PUEBLO, Colo. – Two-time World Champion J.B. Mauney knows there is still plenty of time to take care of business and qualify for the 2019 PBR World Finals despite an onslaught of injuries that have hindered him this season.
The No. 30-ranked bull rider in the world standings said on Tuesday that he will miss the Jack Daniel's Music City Knockout, presented by Cooper Tires, this coming weekend at Bridgestone Arena in Nashville, Tennessee, because of a TMJ (temporomandibular joint) sprain in his jaw, a bruised right shoulder/torn rotator cuff and multiple other contusions.
Don't miss the championship round LIVE on CBS 8/25 at 4 p.m. ET.
The 32-year-old does not expect the injuries to force him to miss an extended amount of time, and he's hopeful that a two-week break before the Anaheim Invitational on Sept. 6-7 will do him some good.
"I will probably go to Anaheim," Mauney said. "No fractures. Just swelling in the joints. Headed to the dentist today to work on my teeth. Not coming to Nashville. If I am going to take a weekend off, this is one to do it. To win Nashville, you have to get on a shit ton of bulls."
Nashville is the last PBR Major of the season. The event winner of the progressive elimination event will have to attempt four bulls on Championship Sunday (live on CBS at 4 p.m. ET) in less than two hours.
Mauney met with Dr. Tandy Freeman on Tuesday in Dallas to have his shoulder evaluated and get X-rays on his jaw after he was injured on two different occasions during the WinStar World Casino and Resort Houston Invitational, presented by Bass Pro Shops.
The evaluation was all good news for Mauney.
X-rays were negative for a broken jaw, and Freeman informed Mauney that it looked like he did no further damage to his right shoulder, which already had a torn rotator cuff, when Just Blaze fell on him in the championship round.
"Tandy looked at and he didn't think I had anything new," Mauney said. "I guess hitting the ground, it's like I bruised the shit out of a muscle or something. Maybe a stinger or something."
His teeth, however, weren't so lucky.
"Four of them are chipped in the back, and one of them is cracked all the way up to the gum on the left side of my mouth," Mauney said.
The damage stems from when he was jerked down in Round 2 attempting to ride Yelawolf (5.33 seconds).
"My timing was still a little off on that muley and he caught me sitting on my ass," Mauney said. "I was making the moves that I had to make to ride him, but they weren't the correct moves. I should have stayed a little more square and a little more up on him. He wasn't kicking a whole lot, and I was kind of dropping off in there. When he shot forward, I was a day late and a dollar short."
Mauney proved in Round 1 in Houston that he could fight through a torn rotator cuff, which an MRI revealed last week following the Express Ranches Classic, presented by Osage Casino, in Tulsa, Oklahoma.
The 13-time PBR World Finals qualifier rode Boogie Bomb for 87.5 points and the 526th qualified ride of his premier series career.
"It don't feel bad. There is no real telling when I tore it," Mauney said. "It stays sore, but it don't hurt to move it or do anything like that. Now if you go mashing on it, then it gets a little tender."
RELATED: Mauney takes over sole possession of second-most qualified rides
Mauney received a bad hand on Championship Sunday.
He was first jerked down by Yelawolf in Round 2, which led to the jaw injury, a chin laceration and the series of chipped teeth.
Things only got worse in the championship round when Just Blaze fell on him, crushing his already banged up shoulder, as he was leaving the bucking chute.
Mauney finished eighth overall in Houston and picked up 65 world points to inch himself further ahead of the World Finals cutline.
The North Carolina cowboy holds a 193.75-point lead on No. 37 Dalton Kasel.
Mauney has been overcoming injuries throughout his career, but he has had to dig that much deeper since undergoing reconstructive surgery on his right shoulder following the 2017 Calgary Stampede.
He has been battling a multitude of injuries to his groins, knees, ankles, wrist, forearm and ribs this season.
Mauney is 9-for-32 (28.13%) in 14 Unleash The Beast events. He has missed six events because of injuries.
Last year, Mauney qualified for the 2018 PBR World Finals despite a broken back and torn groin by going 3-for-3 at the regular-season finale in Nampa, Idaho.
Mauney is adamant that he will qualify for a 14th consecutive Finals later this season.
"Oh yeah," Mauney said. "I'll be there."
Follow Justin Felisko on Twitter @jfelisko