Nashville Draw: Cochise and SweetPro's Bruiser will be waiting for final two riders
By : Justin Felisko
August 21, 2019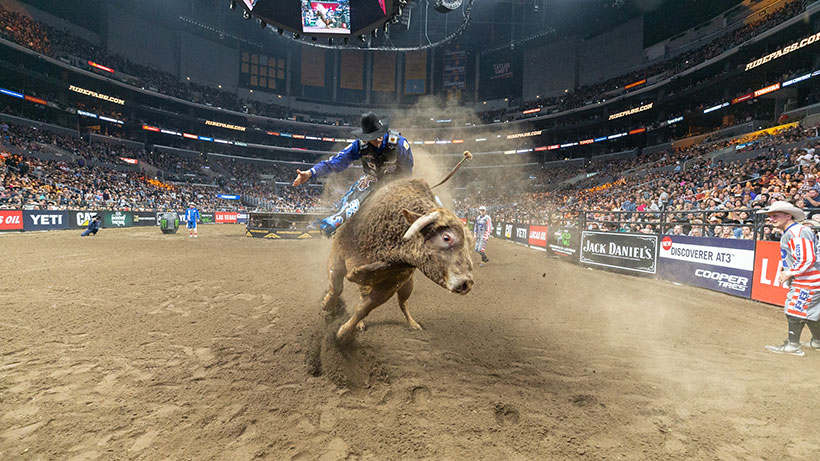 PUEBLO, Colo. – Gene Owen would have loved for Chase Outlaw to ride Cochise for 90 or more points at the last PBR Major during Last Cowboy Standing at Cheyenne Frontier Days.
In fact, Owen takes tremendous pride in seeing a bull rider hit a tremendous 90-point ride on one of his and Jane Clark's bulls.
Daylon Swearingen most recently rode Cochise for 92 points two weeks ago during the 15/15 Bucking Battle in Tulsa, Oklahoma.
The ride was a personal best for Swearingen, and the first 90-point ride of the 20-year-old's career will be one he never forgets.
During Last Cowboy Standing, Owen talked about his desire to see Cochise set a new PBR record for 90-point rides produced by one bull.
Cripple Creek Promiseland was ridden for 90 or more points nine times in 2001.
"For a bull to go through a whole year and never be under 90 is quite the deal," Owen said. "If they went to five events that would be no big deal, but to go to 15, it is a big deal. To stay that good for that long."
RELATED: Round 1 matchups for Nashville
Cochise has been to 11 events in 2019 and been ridden for 90 or more points seven times – three of those rides were for 92 points or more.
The seven 90-point rides has Cochise tied with Troubadour (2009), Mossy Oak Mudslinger (2005) and Red Wolf (1999) for the sixth-most all time.
There is a good chance that Cochise will be conquered again for 90 or more points during this weekend's Jack Daniel's Music City Knockout, presented by Cooper Tires, in Nashville.
Fans can watch Round 1 LIVE on CBS Sports Network Saturday night at 8 p.m. ET and Championship Sunday LIVE on CBS national television at 4 p.m. ET. RidePass will also have corresponding coverage.
PBR Director of Livestock Cody Lambert has selected Cochise and three-time World Champion SweetPro's Bruiser as the final two bulls for the progressive-elimination formatted event being held in Nashville's Bridgestone Arena.
NASHVILLE FORMAT
One rider can earn a maximum of 1,250 points toward the world standings in Nashville and a minimum payday of $100,000.
This season's Nashville Major will not be a bracket-style event like it was from 2015-2018.
Instead, it will feature the same progressive elimination format that debuted in Cheyenne four weeks ago.
RELATED: Outlaw wins memorable Last Cowboy Standing title
Forty riders will begin in Round 1 with the Top 25 scores advancing to Round 2. The Top 8 riders via aggregate score following the second round will then advance to Round 3. Next, Round 4 will then consist of the top four riders in the aggregate based upon the previous three rounds.
Essentially, the first four rounds will be cut down from 40 riders to 25 to eight to four.
Round 5 will feature every rider who posted a qualified ride in Round 4. A minimum of two riders will compete in Round 5. If only one rider covers in Round 4, then the PBR will draw back one rider (based on aggregate scores following the completion of Round 4).
***
Cochise and Bruiser were the final two bulls in Cheyenne, but Outlaw and Lucas Divino (5.08 seconds on Bruiser) both failed to connect on a winning ride.
Ruger Piva rode Bruiser for 92 points at the PRCA Caldwell (Idaho) Night Rodeo last weekend in the bull's last out at all levels of competition. The ride was a new PRCA career best for Piva.
Bruiser has surrendered back-to-back 90-point rides at all levels following Cody Jesus' 90.25-point effort in the Tulsa 15/15 Bucking Battle.
"He feels amazing," Piva said. "Just feels like you're floating through the air, really! You definitely know he's bucking his ass off, but he just feels really smooth."
Piva has drawn Margin Call (0-0, UTB) for Round 1 in Nashville.
This weekend is Piva's first Unleash The Beast event since Cheyenne, when he was eliminated in the first round.
The Challis, Idaho, native is one of nine alternates or exempt riders competing in Nashville. Other alternates/exempt riders are No. 41 Dylan Smith (-60.84 behind No. 36 Brady Fielder), No. 42 Junio Quaresima (-90 points), No. 43 Shay Marks (-122.5 points), No. 78 Dener Barbosa (-347.5 points), No. 97 Nathan Burtenshaw (-407.5 points), No. 109 Brock Radford (-437.5 points), No. 142 Lonnie West (-487.5 points) and No. 288 Fabiano Vieira (-552.5 points).
They are replacing No. 9 Ryan Dirteater (broken ribs, collapsed lung, lacerated liver), No. 17 Aaron Kleier (suspended/declined invite), No. 20 Joe Frost (broken right leg), No. 24 Cannon Cravens (broken left leg), No. 30 J.B. Mauney (sprained jaw, bruised shoulder, torn rotator cuff), No. 32 Colten Jesse (reconstructive shoulder surgery), No. 33 Jared Parsonage (declined alternate spot), No. 36 Brady Fielder (declined alternate spot) and No. 38 Cody Heffernan (declined alternate spot).
Radford and West are making their UTB season debuts courtesy of injury exemptions from 2018, while Marks is making his career debut on the PBR's marquee tour.
Marks is the No. 2-ranked rider in PBR Canada and is 21-for-56 (37.5%) in a Canada-best 33 events. The 23-year-old from Sunny Brook, Alberta, is 24-for-70 (34.29%) at all levels, and 3-for-14 on the Pendleton Whisky Tour and Touring Pro Division.
Radford is 10-for-20 (50 percent) since returning to competition on July 4 following offseason left knee surgery. The 24-year-old finished 2018 ranked 39th in the world standings and went 0-for-3 at the World Finals as an alternate.
RELATED: Radford readies for UTB return
West has struggled (7-for-32, 21.88%) since returning in April after breaking his leg at the 2019 WinStar World Casino and Resort Global Cup USA, presented by Monster Energy, in February.
Fellow Canadian Dakota Buttar (hip/shoulder) is returning to competition after missing the past two UTB events and sitting out the last two weeks overall. Buttar won the last two PBR Canada events he competed in to help him stay ranked inside the Top 35. He heads into Nashville ranked No. 31, 167.09 points ahead of No. 37 Dalton Kasel.
FROST IN GOOD SPIRITS
Frost was on his way back home to Utah Wednesday after undergoing surgery Monday in Houston. According to Dr. Tandy Freeman, Frost is questionable for the 2019 PBR World Finals.
"Right now, I need to get home and get it elevated and rest for a few days to let it quiet down and begin to heal, then worry about rehabbing it," Frost said. "I'm in a walking boot and already able to put some weight on it. Should be on the stationary bike first of next week."
LOCKWOOD TAKES 340-POINT LEAD INTO NASHVILLE & ROUND 1 REMATCHES
World leader Jess Lockwood may be able to extend his lead atop the world standings this weekend in a big way.
Lockwood has a rematch in Round 1 to start things off against The Don (27-5, UTB) as he tries to increase his 340-point lead on No. 2 Chase Outlaw.
The 21-year-old previously covered The Don for 87.5 points last year at the WCRA Rodeo Showdown at Helldorado Days.
ROUND 1 REMATCHES
Lockwood vs. The Don (87.5 points 2018 WCRA Rodeo Showdown)
Dakota Buttar vs. Newsom (85 points in Billings, Montana)
Danilo Carlos Sobrinho vs. Honey Man (88.25 points in Sioux Falls, South Dakota)
Derek Kolbaba vs. Beaver Creek Beau (0-2)
Lucas Divino vs. Scarface (2.98 seconds in Little Rock, Arkansas)
Silvano Alves vs. Joker (5.29 seconds in Columbus, Ohio)
SMASHVILLE: WORLD CHAMPION BUCKING BULLS TO BRING THE HEAT IN ROUND 2
Eight of the Top 10 World Champion Bull contenders are all expected to buck in Nashville.
No. 1 Smooth Wreck – 45.46 World Champion Bull Average (Round 2)
No. 2 Smooth Operator – 45.63 (Round 2)
No. 3 Fearless – 45.41 (Round 2)
No. 4 SweetPro's Bruiser – 45.16 (Round 5)
No. 5 Heartbreak Kid – 44.94 (Round 2)
No. 6 Cochise – 44.81 (Round 5)
No. 8 Wild Goose – 44.75 (Round 2)
No. 8 Canadian Mist – 44.75 (Round 2)
*A bull's World Champion Bull average is based on a bull's best eight outs of the regular season.
Follow Justin Felisko on Twitter @jfelisko